L'impasse israélo-palestinienne : quelle durabilité du statu quo ?
Since the Oslo Accords, the Israeli-Palestinian peace process has been at a standstill. The Israeli occupation of the West Bank, incorporating the collaboration of the Palestinian element, and the Israeli blockade imposed on the Gaza Strip, continues slowly but surely, not to mention the increasingly normalized Israeli annexation of East Jerusalem. All this prevents the advent of the notorious two-state solution, a paradigm that has become sacred in the diplomatic arena. However, in the medium term, this status quo is likely to be shaken both by internal factors and by external dynamics, leading to more or less desirable scenarios.
Depuis les accords d'Oslo, le processus de paix israélo-palestinien est au point mort. L'occupation israélienne de la Cisjordanie, incorporant la collaboration de l'élément palestinien, et le blocus israélien imposé à la bande de Gaza, se poursuivent doucement mais sûrement, sans parler de l'annexion israélienne de Jérusalem-Est, de plus en plus normalisée. Tout cela empêche l'avènement de la fameuse solution à deux États, paradigme devenu sacré au sein des sphères diplomatiques. Cependant, à moyen-terme, ce statu quo risque d'être secoué aussi bien du fait de facteurs internes que sous l'effet de dynamiques externes, débouchant sur des scénarios plus ou moins souhaitables.
Fichier principal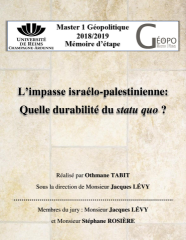 TABIT_M1_GEOPOLITIQUE_2019.pdf (3.4 Mo)
Télécharger le fichier
Origin : Files produced by the author(s)