French waterfronts: regional or international problem?
Les fronts portuaires français : un problème régional ou international ?
Waterfronts are the part of landscape between the town itself and the harbour, in which are located equipment dealing with maritime needs: stocking, wholesale, workers of the docks, tertiary activities, "sailortown"... Often they have an architectural outlook coming from the wealthy periods of ocean trade. Now new interest comes upon them, because of the extend of no more used maritime equipment in many great harbours. This paper analyses some examples taken in France (Le Havre, Marseille, Nantes) and precise the particularities of the French case. Then it tries to determine the general meaning of waterfronts elsewhere, their evolution and the mechanisms underlying their transformations.
Les fronts portuaires sont cet espace construit entre la ville et le port pour répondre aux besoins de ce dernier : localisation des services, des entreprises à caractères maritimes, stockage, auxiliaires de la navigation, main d'œuvre travaillant sur les quais, «quartiers portuaires» ... Ils ont souvent gardé un aspect architectural lié à la prospérité des échanges ; ils sont une transition avec le reste de la ville qui a d'autres fonctions qui lui sont propres. Ils sont l'objet d'un regain d'intérêt à cause des friches portuaires qui sont en relation avec eux. Après l'analyse de cas types (Le Havre, Marseille, Nantes) l'article précise la spécificité des ports français dans ce domaine ; puis il élargit le problème et fournit un essai d'interprétation générale des évolutions et des mécanismes de fonctionnement de ces fronts portuaires.
Fichier principal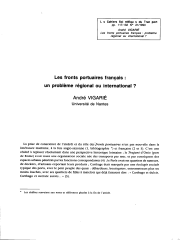 CST_21_06_VIGARIE.pdf (764.76 Ko)
Télécharger le fichier
Origin : Explicit agreement for this submission