La valorisation des Espaces Naturels Sensibles
Sensitive Natural Areas are places with two main objectives: to preserve the quality of landscapes, natural environments and habitats and to be designed so as to be open to the public. Unfortunately, these spaces are little known by the public, nevertheless they are places of interest, especially recreation and nature awareness. That is why it is necessary to identify ways to implement to enhance these areas so that they are more used by the general public. This dissertation attempts to provide solutions to help improve the communication of these spaces, provide methods to make planning that are respectful of the site and the environment, and also to help keep this site better and species present in the establishment of protection and effective management. Two projects of ENS in Deux-Sèvres illustrate this dissertation and techniques described. One is a dry calcareous valley with a strong interest in biodiversity of flora and fauna and geological and landscape, the other one is a former marble quarrying with a large geological interest.
Les Espaces Naturels Sensibles sont des lieux possédant deux objectifs principaux : préserver la qualité des paysages, des milieux naturels et des habitats et être aménagés pour être ouverts au public. Ces espaces, malheureusement peu connus du grand public, sont pourtant des lieux d'intérêt, notamment de récréation et de sensibilisation à la nature. C'est pour cela qu'il est nécessaire de définir des moyens à mettre en œuvre pour valoriser ces espaces afin qu'ils soient davantage utilisés par le grand public. Ce mémoire tente d'apporter des solutions afin de permettre d'améliorer la communication sur ces espaces, de présenter des méthodes pour réaliser des aménagements qui soient respectueux du site et de l'environnement, et aussi de permettre de conserver au mieux le site et les espèces présentes par la mise en place d'une protection et d'une gestion efficace. Deux projets d'ENS dans les Deux-Sèvres viennent illustrer ce mémoire et les techniques décrites. L'un est une vallée sèches calcicole présentant un fort intérêt en terme de biodiversité faunistique et floristique ainsi que géologique et paysager, l'autre est une ancienne carrière d'extraction du marbre possédant un intérêt géologique fort.
Fichier principal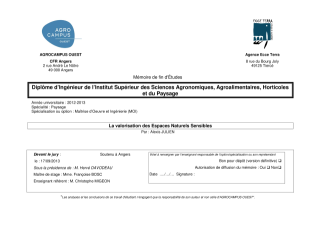 2013_JULIEN_Alexis_Valorisation_Espaces_Naturels_Sensibles.pdf (5.88 Mo)
Télécharger le fichier