La gestion des biens communs dans un ensemble immobilier : étude comparative entre les ASL et les unions de syndicats
Article 1 of the law of July 10, 1965 mentions the various organizations allowing to escape the status of the co-ownership. This in order to manage the common goods winthin a real estate complex. The two most common conventions are free trade association and union of property owners. These two structures with similar mission have some distinct characteristics that could jeopardise common buildings. It goes without a doubt that act of association has a considerable lead compared to the union. On the one hand, the ASL can be created upstream of a development project when the union can be done only after the creation of at least one co-owner syndicate. In addition, the real character is more pronounced for the ASL because no owner can out the group. Conversely, everyone can out the perimeter of union of property owners, which poses a problem for the sustainability of common buildings. Finally, the ALUR law allows only free association's syndicate to recover their charges as permitted to a co-owner syndicate. Nevertheless, the Land Surveyor will have to study the specific situation of real estate complex to sustainably support professionals and individuals in choosing and setting up the most appropriate structure.
L'article 1er de la loi du 10 juillet 1965 mentionne les organisations différentes permettant de se soustraire au statut de la copropriété afin de pouvoir gérer les biens d'intérêt commun au sein d'un ensemble immobilier. Les deux conventions que l'on retrouve le plus souvent sont les associations syndicales libres et les unions de syndicats. Ces deux structures à la mission similaire présentent certaines caractéristiques distinctes pouvant mettre en péril les immeubles en communs. Il va sans nul doute que l'acte d'association ait une avance considérable par rapport à l'union. D'une part, l'ASL peut être créée en amont d'une opération d'aménagement quand l'union ne peut se faire qu'après la création d'au moins un syndicat de copropriétaires. De plus, le caractère réel est d'avantage marqué pour l'ASL car aucun propriétaire ne peut sortir du groupement. À l'inverse, chacun peut sortir du périmètre de l'union de syndicats, ce qui pose un problème pour la pérennité des immeubles en communs. Enfin, la loi ALUR permet aux seules associations syndicales libres de recouvrir leurs charges tel qu'il est permis pour un syndicat des copropriétaires. Néanmoins, le Géomètre Expert devra étudier la situation spécifique de l'ensemble immobilier pour accompagner durablement professionnels et particuliers à choisir et mettre en place la structure la plus adéquate.
Fichier principal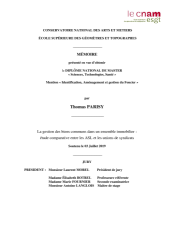 PARISY Thomas.pdf (562.54 Ko)
Télécharger le fichier
Origin : Files produced by the author(s)