Thromboprophylaxie par héparine de bas poids moléculaire en post-partum
Introduction: Venous thromboembolism is still the second leading cause of direct maternal mortality, which makes its prevention essential. The main objective was to check whether guidelines of French Society Anesthesia and Intensive Care and French National College of Gynaecologist and Obstetricians are on line with the low molecular weight heparin thromboprophylaxis prescribed in practice during postpartum.
Methods: A quantitative and retrospective obstetrical record study over 300 patients who delivered between October 25th and December 9th 2019, has been led in the Sud-Francilien Hospital in Corbeil-Essonnes. The recommended and actually prescribed post-partum thromboprophylaxis were then analyzed and compared.
Results: In this way, we have been able to underline that the agreement, between low molecular weight heparin thromboprophylaxis actually prescribed and the recommendations, was only within 30 to 40%. This gap was in excess for cesareans sections and in default for vaginal deliveries.
Conclusion: A special attention should be paid to venous thromboembolism's risks factors for each patient, whatever the mode of delivery.
Introduction : La prévention des maladies thromboemboliques veineuses est essentielle car celles-ci restent encore la deuxième cause directe de mortalité maternelle. Notre objectif était de vérifier l'adéquation entre la thromboprophylaxie par héparine de bas poids moléculaire prescrite en pratique en post-partum avec, d'un côté, les recommandations de la Société Française d'Anesthésie et de Réanimation et de l'autre, celles du Collège National des Gynécologues et Obstétriciens Français.
Méthode : Une étude quantitative et rétrospective par recueil de données sur 300 patientes ayant accouché entre le 25 octobre et le 9 décembre 2019, a été menée au Centre Hospitalier Sud-Francilien à Corbeil-Essonnes. Les thromboprophylaxies prescrites en post-partum ont été analysées et comparées avec celles recommandées.
Résultats : Nous avons pu ainsi montrer qu'il n'y avait une concordance que de l'ordre de 30 à 40% entre la thromboprophylaxie par héparine de bas poids moléculaire prescrite en pratique et celle selon les recommandations. Il ressort que cet écart était globalement en excès pour les césariennes et en défaut pour les voies basses.
Conclusion : Une vigilance accrue devrait être portée aux facteurs de risque de maladie thromboembolique veineuse de chaque patiente, quelle que soit la voie d'accouchement.
Fichier principal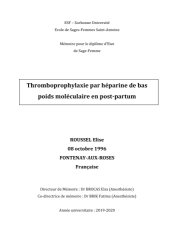 4_MEM_SF_2020_ROUSSEL_Elise.pdf (1.94 Mo)
Télécharger le fichier
Origin : Files produced by the author(s)