À la recherche du chez soi
Committed to his assignment in privacy, the intimate space has been questioned by the seclusion into the interior imposed by the confinement. Under this restriction, frictions occurred between new behaviours such as teleworking and blurred perceptions between living space, sanctuary space, and harmful space. As this unusual situation affects our daily lives, it seems relevant to challenge the design of this space and its implication for the home. While virtuality has made it possible to maintain relationships outside the home, new technologies are disrupting the codes of individual representation. Analyzing together design and systems of perceptions, this dissertation examines the relationships between materiality, spatiality, and behaviour in a situation that forces both body and mind, to new dynamics. Thanks to a series of seven semi-structured interviews which led to the collection of qualitative data on the isolation background, it then establishes a classification of meaningful intimacy conception that could prevail as a beginning for a design closer to a polyphonic space.
Voué à son assignation dans le privé, l'espace intime a été mis à mal par le repli dans l'intérieur imposé par le confinement. Sous cette contrainte ont émergé des tensions entre de nouveaux comportements comme le télétravail et des perceptions floues entre espace vital, espace refuge, espace de danger. Face à une situation inédite qui impacte notre quotidien, il semble pertinent de questionner la conception de l'intime et son ancrage dans le chez-soi. Alors que la virtualité a permis de maintenir les liens hors du foyer, elle a aussi modifié les codes de représentations du soi. Ce mémoire examine les rapports entre matérialité, spatialité et comportements dans une situation qui contraint le corps et l'esprit à de nouvelles dynamiques. Grâce à une série de sept entretiens semi-dirigés qui ont conduit à la récolte de données qualitatives sur le vécu de l'isolement, il définit ce que pourrait être une classification des conceptions de l'espace intime, comme une amorce d'un design plus proche de nouvelles considérations.
Fichier principal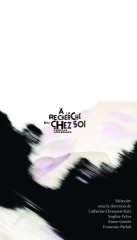 2021-GOUSSARD Recherche.pdf (12.5 Mo)
Télécharger le fichier
Origin : Files produced by the author(s)