L'établissement progressif d'un lien et d'une clinique psychomotrice auprès de la personne polyhandicapée : lorsque les capacités se révèlent au sein d'une relation accordée
I first started my internship this year with very modest knowledge and representations of people with multiple disabilities and of the role of the psychomotor therapist with them.
It is through the meeting with Alice and Bethany and a perpetual questioning, that I gradually discovered the richness of a unique link that can be established with each person with multiple disabilities. This link was established in parallel with a psychomotor clinical approach which itself gradually developed and adjusted in this interactional dynamic.
The link that binds the psychomotor therapist and the patient is the soil in which a suitable and quality support is born and then doomed to evolve according to lived experiences.
I want to show in this thesis, the steps and the supports that came to support the establishment of the link and the psychomotor approach thus contributing to the expression and development of the person with multiple disabilities.
J'ai débuté mon stage en début d'année avec un bagage de connaissances et une représentation bien modeste de la personne en situation de polyhandicap et de la place du psychomotricien auprès de cette population.
C'est au travers de la rencontre avec Alice et Bethany et d'un perpétuel questionnement, que j'ai progressivement découvert la richesse d'un lien unique qui peut s'établir avec chacune des personnes en situation de polyhandicap. Ce lien s'est édifié en parallèle d'une approche clinique psychomotrice qui s'est elle-même progressivement élaborée et ajustée dans cette dynamique interactionnelle.
Le lien qui lie le psychomotricien et le patient est le terreau dans lequel prend naissance un accompagnement adapté et de qualité voué ensuite à évoluer selon les expériences vécues.
Je souhaite montrer dans ce mémoire, les étapes et appuis qui sont venus soutenir l'établissement du lien et de l'approche psychomotrice contribuant ainsi à l'expression et l'épanouissement de la personne polyhandicapée.
Fichier principal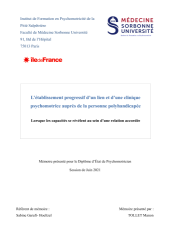 38_MEM_PSYCHOMOT_2021_TOLLET_Manon.pdf (488.98 Ko)
Télécharger le fichier
Origin : Files produced by the author(s)