Prise en charge des interruptions médicales de grossesse et des morts foetales in utéro en salle de naissance : le ressenti des sages-femmes
Introduction: when couples are faced with a Medical Termination of Pregnancy (MTP) or IntraUterine Fœtal Death (IUFD), their involvement is influenced by the support received from the health professionals. Therefore, many studies focus on the experiences of those couples. However, often, the feelings of the health professionals who provide a support for them during these hard times, in particular those of the midwives in the delivery room, have hardly been approached in the literature. Methods: the main objective of the study was to explore the feelings of midwives regarding the care of MTP and IUFD in the delivery room. A qualitative study was conducted in a type-III maternity of Auvergne-Rhône-Alpes. Moreover, semi-structured interviews were conducted with nine midwives. Results: midwives describe emotionally intense moments. The result is a mixture of feelings and emotions; whose determinants are multifactorial. To face it, they develop more or less effective methods, and express several expectations and needs to help them in this process, such as developing training and providing psychological support. Discussion: midwives report an intense emotional load, alongside the couple being accompanied. The development of collective and individual defensive strategies seem essential, nonetheless, it must be supported to avoid repercussions on the quality of care and on the couple's experience. Conclusion: meeting the expectations and needs of midwives by providing them with practical and especially psychological support is essential to enable them to identify, recognize, admit and express their own emotional feelings. This involves improving continuing education and developing psychological support for caregivers.
Introduction : le vécu des couples confrontés à une Interruption Médicale de Grossesse (IMG) ou à une Mort Fœtale In Utéro (MFIU) est influencé par l'accompagnement reçu de la part des professionnels de santé. Alors que de nombreuses études portent sur le vécu de ces couples, le ressenti des professionnels qui les accompagnent, notamment celui des sages-femmes en salle de naissance, a très peu été abordé par la littérature. Méthode : les objectifs de l'étude étaient d'explorer le ressenti des sages-femmes face à la prise en charge des IMG et des MFIU en salle de naissance. Une étude à visée descriptive et interprétative a été réalisée dans une maternité de niveau III en région Auvergne-Rhône-Alpes. Neuf sages-femmes ont été interrogées par le biais d'entretiens semi-directifs. Résultats : les sages-femmes décrivent certains moments comme intenses émotionnellement. En découle un mélange de sentiments et d'émotions dont les déterminants sont multifactoriels. Pour y faire face, elles développent des méthodes plus ou moins efficaces, et expriment plusieurs attentes et besoins pour les aider dans cette démarche, tels que le développement de formations et la mise en place d'un soutien psychologique. Discussion : les sages-femmes font état d'une charge émotionnelle significative, parallèlement au couple accompagné. Le développement de stratégies défensives collectives et individuelles semble indispensable mais doit être soutenu pour éviter les répercussions négatives sur la qualité de l'accompagnement et le vécu du couple. Conclusion : répondre aux attentes et besoins des sages-femmes en leur apportant un soutien pratique et surtout psychologique est essentiel pour leur permettre de repérer, reconnaître, admettre et exprimer leur propre ressenti émotionnel. Cela passe par l'amélioration de la formation continue, et le développement d'un soutien psychologique pour les soignants.
Fichier principal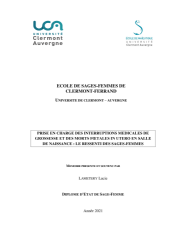 2021-MSF-LAMETERY-L.pdf (1.94 Mo)
Télécharger le fichier
Origin : Files produced by the author(s)