Enseigner la philosophie par l'image fixe
In this writing, we considered the teaching of philosophy in using fixed images, that we distinguished from audio-visual images or telling images. If philosophy isn't usually prone to use images, we are led to consider this new way of communicating philosophical skills and knowledge by the linguistics obstacles met by students nowadays. Our study is divided into two parts : first, we exposed the main philosophical arguments against images. This criticism teaches us lessons about how to restrain or rule its use. Secondly, we showed the pedagogics virtues of set images in teaching philosophy. Our reasoning goes allong with more of less developped exemples showing the use of fixed images during a philosophy teacher's intern year.
Dans cet écrit réflexif nous avons réfléchi à l'enseignement de la philosophie par l'image fixe, à la distinction de l'image audiovisuelle ou du récit imagé. Si la philosophie peut montrer des réticences à l'emploi de l'image, les difficultés linguistiques rencontrées par les élèves nous invitent à considérer ce nouveau moyen pour leur communiquer un savoir et des compétences philosophiques. La réflexion est divisée en deux temps : premièrement, nous avons exposé les critiques philosophiques majeures adressées à l'image, lesquelles nous invitent à limiter ou à régler son usage. Deuxièmement, nous avons explicité les vertus pédagogiques de l'image, notamment dans l'enseignement de la philosophie. Le propos s'accompagne de quelques exemples, plus ou moins développés, d'usages de l'image fixe au cours de l'année de stage d'un professeur de philosophie.
Fichier principal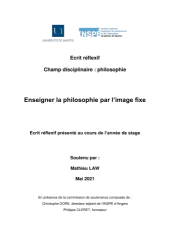 Angers_LAW_Mathieu_Philosophie_2021.pdf (1.43 Mo)
Télécharger le fichier
Origin : Files produced by the author(s)