What are the knowledge and practices of general practitioners for the care of pressure ulcer in the city of Seine-Saint-Denis?
Quelles sont les connaissances et les pratiques des médecins généralistes pour la prise en charge des escarres en ville dans le département de Seine-Saint-Denis ?
Introduction: the pressure ulcer is a frequent problem in the hospital but also in primary care and has many complications.
Goal of the study: the objective of this study is to evaluate the overall knowledge of a cohort of physicians on the problem of pressure ulcer management at home and incidentally the analysis of the most unknown points and the most frequent practical problems.
Methods : the data were collected using an anonymous questionnaire sent by post with an explanatory letter to the general practitioners of the city of Seine-Saint-Denis, to evaluate the four entities in the management of pressure ulcer, the diagnosis, the prevention, the treatment and the coordination of care.
Results: 122 practitioners responded to the survey. 82% of them did not have training in pressure ulcer.There are some gaps in the diagnosis of pressure ulcers and the means of prevention are not used optimally, even if all professionals give great sensitivity to prevention. Regarding the treatment, there are difficulties for the choice of dressing evoked by 70% of the general practitioners then they indicated the prescription of the supports, the management of pain, relationship difficulties with the patient. Support nutrition is the subject that remains best mastered by practitioners in the city. Regarding the coordination, practitioners have trouble finding a specialist referee in case of complication.
Conclusion: this work reveals an inventory of practices and problems of general practitioners of the city for the management of pressure ulcer. It exists several difficulties requiring training and the establishment of healthcare networks in the area.
Introduction : l'escarre représente un problème fréquent en structure hospitalière mais aussi en soins primaires et présente de nombreuses complications.
Objectif de l'étude : l'objectif de l'étude est d'évaluer les connaissances globales d'une cohorte de médecins généralistes sur la problématique de la gestion des escarres au domicile et accessoirement l'analyse des points les plus méconnus et des problématiques pratiques les plus fréquentes. Méthodes : les données ont été recueillies à l'aide d'un questionnaire anonyme envoyé par voie postale avec une lettre explicative aux médecins généralistes du département de Seine-Saint-Denis permettant d'évaluer les quatre entités de la prise en charge des escarres, le diagnostic, la prévention, le traitement et la coordination des soins. Résultats : 122 praticiens ont répondu à l'enquête. 82% d'entre eux n'ont pas eu de formation sur les escarres. Il existe quelques lacunes sur le diagnostic de l'escarre et les moyens de prévention ne sont pas utilisés de façon optimale, même si tous les professionnels accordent une grande sensibilité à la prévention. Concernant le traitement, il existe des difficultés pour le choix de pansement évoqué par 70% des médecins généralistes puis sont indiqués la prescription des supports, la prise en charge de la douleur, les difficultés relationnelles avec le patient. La prise en charge nutritionnelle est le sujet qui reste le mieux maîtrisé par les praticiens du département. Concernant la coordination, les praticiens ont du mal à trouver un référent spécialiste en cas de complication.
Conclusion : ce travail a permis d'établir un état des lieux des pratiques et des problématiques des médecins généralistes du département pour la prise en charge des escarres. Il existe plusieurs difficultés nécessitant une formation et la mise en place de réseaux dans le département.
Fichier principal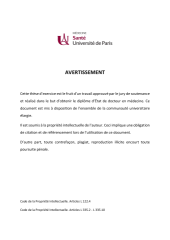 ThEXE_Houssene_Mahamadaly_DUMAS.pdf (1.59 Mo)
Télécharger le fichier
Origin : Files produced by the author(s)