Revue de littérature systématique sur l'analyse 3D du mouvement du membre supérieur chez les enfants de 1 à 5 ans
Different methods of motion analysis are found to study upper limb's (UL) movement in scientific literature. However, researches are usually made for adults or school children. No consensus exist for the assessment of UL with 3D motion analysis in pre-schooled children. Purpose: The aim was to report 3D motion analysis protocols to assess upper limbs' movement in children aged between 1 and 5 years old. Methods : articles were selected from PubMed research database until March 2021. Included studies reported data on children aged between 1 and 5 years old, using an optoelectronic system and from only upper limbs' analysis. Newly created studies quality scales were used. Data on analysis system, protocols, parameters (temporospatial, kinematic, etc.) were reported. Typically developing children and children with UL impairments were compared. Reliability and validity of protocols were explored. Results : 25 articles were included: 3 on children with Cerebral palsy, 3 on Autism Spectrum Disorder, 17 on typically developing and 2 on born preterm. Many protocols and optoelectronics systems appeared, adapted with children's ages but a same structure of the method was found. Reliability and validity were found only in two articles. Differences were found on pathologies only about characteristics of movement. Conclusion : to conclude, various 3D protocols were described in 4 different population of children to explore UL movement in pre-school children. It would help to create a reference-based protocol. A 3D UL protocols in children between 1 and 5 years will serve to follow the children's development, to adjust medical care and to help diagnosis.
Différentes méthodes d'analyse du mouvement existent pour étudier le mouvement du membre supérieur dans la littérature scientifique. Cependant, les recherches sont généralement réalisées pour les adultes ou les enfants d'âge scolaire. De plus, aucun consensus n'existe sur le protocole à utiliser pour étudier le membre supérieur avec l'analyse 3D du mouvement chez les enfants en âge préscolaire. Objectif : Le but de ce mémoire était de rapporter les protocoles d'analyse 3D du mouvement pour l'étude du membre supérieur chez les enfants entre 1 et 5 ans. Méthode : tous types d'articles, d'auteurs ou d'années de publication trouvés sur Pubmed sont pris en compte. Les critères d'inclusion sont : les enfants âgés entre 1 et 5 ans, un système optoélectronique pour analyser le mouvement, et une étude du membre supérieur. Résultats : 25 articles sont inclus dans la recherche systématique : 3 articles sur la paralysie cérébrale, 3 articles sur le trouble de spectre autistique, 2 articles d'enfants nés avant terme, et 17 articles d'enfants avec un développement typique. Les articles montrent une diversité de protocoles et de systèmes optoélectronique. Les protocoles sont généralement adaptés à l'âge des enfants, cependant une même structure dans la méthode est trouvée. La validité et la reproductibilité sont analysées dans seulement deux articles. Des différences sont retrouvées entre les pathologies uniquement sur les caractéristiques de la préhension. Conclusion : Pour conclure, de nombreux protocoles 3D ont été décrits dans les 4 différentes populations d'enfants pour explorer l'analyse du mouvement du membre supérieur chez les enfants pré-scolaires. Leur analyse a permis d'aider à définir un protocole type. Les protocoles d'analyse 3D du membre supérieur chez les enfants de 1 à 5 ans serviront à suivre le développement des enfants, à ajuster les soins médicaux et à aider au diagnostic.
Fichier principal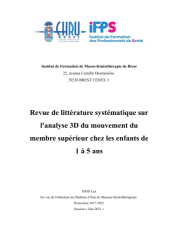 Memoire-masso-kinesitherapie-2021-IOOS_Léa.pdf (2.08 Mo)
Télécharger le fichier
Origin : Files produced by the author(s)