Impact pronostique d'une mutation BRAF chez les patients opérés de métastases hépatiques de cancer colorectal : méta-analyse
Background. Data regarding clinical outcomes of patients undergoing hepatic resection for BRAF-mutated colorectal liver metastases (CRLM) are scarce. Most of the studies report an impaired median overall survival (OS) in BRAF-mutated patients, but controversial results regarding both recurrence-free survival (RFS) and recurrence patterns. The purpose of this updated meta-analysis was to better precise the impact of BRAF mutations on clinical outcomes following liver surgery for CRLM study, especially on recurrence. Methods. A systematic literature review was performed to identify articles reporting clinical outcomes including both OS and RFS, recurrence patterns, and clinicopathological details of patients who underwent complete liver resection for CRLM, stratified according to BRAF mutational status. Results. Thirteen retrospective studies, including 5,192 patients, met the inclusion criteria. The analysis revealed that both OS (OR = 1.981; 95% CI = [1.613-2.432]) and RFS (OR = 1.49; 95% CI [1.01-2.21]) were impaired following liver surgery for CRLM in BRAF-mutated patients. Risks of both hepatic (OR = 0.42; 95% CI [0.18-0.98]) and extrahepatic recurrences (OR = 0.53; 95% CI [0.33-0.83] were significantly higher in BRAF-mutated patients. These patients tended to have higher rates of right-sided colon primary tumors, primary positive lymph nodes, and multiple CRLM. Conclusions. This meta-analysis confirms that BRAF mutations impair both OS and RFS following liver surgery. Therefore, BRAF mutational status should probably be included in further prognostic scores for the assessment of the expected clinical outcomes following surgery for CRLM.
Introduction. Les données concernant l'impact pronostique de la mutation BRAF chez les patients opérés de métastases hépatiques de cancer colorectal (MHCCR) sont rares dans la littérature. La plupart des études rapportent une altération de la survie globale (SG) chez ces patients. En revanche, il existe une discordance concernant les données de survie sans récidive (SSR). L'objectif de cette méta-analyse était de mieux caractériser le réel impact de la mutation BRAF chez les patients opérés de MHCCR. Matériels et méthodes. Une revue systématique de la littérature a été réalisée permettant de sélectionner les articles dont les résultats incluaient la SG, la SSR, les profils de récidive, mais aussi un certain nombre de données clinicopathologiques. Ces résultats étaient analysés selon le statut mutationnel BRAF. Résultats. Treize études rétrospectives, incluant 5192 patients, répondaient aux critères d'inclusion. L'analyse a révélé que la SG (OR = 1,981; IC 95% = [1,613 – 2,432]) et la SSR (OR = 1,49; IC 95% [1,01 – 2,21]) étaient altérés après chirurgie pour MHCCR BRAF-mutées. Par ailleurs, ces patients présentaient un risque significativement plus élevé de récidive hépatique (OR = 0,42; IC 95% [0,18 – 0,98]) et extra-hépatique (OR = 0,53; IC 95% [0,33 – 0,83]. Concernant le profil clinicopathologique de ces patients, il a été constaté une association plus fréquente entre une mutation BRAF et des tumeurs primitives localisées au colon droit avec atteinte ganglionnaire, et des métastases hépatiques multiples. Conclusion. Cette méta-analyse confirme que la mutation BRAF péjore la SG et la SSR après une chirurgie pour MHCCR. Par conséquent, le statut mutationnel BRAF devrait probablement être inclus dans de futurs scores pronostiques prédictifs des résultats oncologiques après chirurgie des MHCCR.
Fichier principal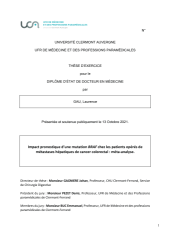 Thèse GAU Laurence.pdf (14.89 Mo)
Télécharger le fichier
Origin : Files produced by the author(s)