Les impacts de la loi du 30 juillet 2020 relative aux violences conjugales dans l'exercice professionnel en médecine générale de ville
Violence has no minimum intensity, no voluntary physical or psychological injury can be tolerated. This problem is part of a global and multidisciplinary reflection, with as a central point, the social inequality between men and women of which the latter remain the main concerned. Thus, the fight against domestic violence is part of a societal choice. For several years, it has been regulated by severe laws, with heavy criminal penalties incurred by the perpetrators of voluntary violence. Because of the many actors involved in situations of domestic violence, it is difficult to think in a circular way, intended for a global and coherent approach.The law of July 30, 2020 was drafted in the context of an upsurge in domestic violence in France. It authorizes the waiver of medical secrecy by the health professional, even without the consent of the victim of conjugal violence, if the latter is associated with a psychological hold and imminent danger. The aim of this study is to collect the different opinions of the general practitioners interviewed concerning this law, and to highlight the existence or not of a change in practice. The recourse to legal information available to the general practitioners is the same as that of the general population - namely the media - and they have therefore not benefited from any information specific to their status as doctors. In the end, the majority of general practitioners were in favour of not making any radical changes to their care. However, they did mention the increase in their thoughts of reporting or at least questioning the existence of potential violence within the couple. The different health professionals mention a difficulty in estimating the existence or not of a psychological hold.
La violence n'a pas d'intensité minimale, aucune blessure physique ou psychologique volontaire ne saurait être tolérée. Ce problème s'insère dans une réflexion globale et pluridisciplinaire, ayant comme point central l'inégalité sociale entre les hommes et les femmes, dont ces dernières restent les principales concernées. Ainsi, la lutte contre les violences conjugales s'inscrit dans un choix de société. Elle est de plus réglementée par des lois sévères, avec de lourdes peines pénales encourues par les auteur(e)s de violences volontaires. En raison des nombreux acteurs impliqués dans les situations de violences conjugales, il est difficile de réfléchir par le biais d'une approche globale et cohérente. La loi du 30 juillet 2020 est élaborée dans un contexte de recrudescence des violences conjugales en France. Elle autorise la dérogation au secret médical par le professionnel de santé, même sans l'accord de la personne victime de violences conjugales, si ces dernières sont associées à une emprise psychologique et à un danger imminent. Ce travail vise à recueillir les différents avis des médecins généralistes interrogés concernant cette loi, et de souligner l'existence ou non d'un changement de pratique. Le recours à l'information légale dont ont disposé les médecins généralistes est le même que celui de la population générale - à savoir les médias - et n'ont donc pas bénéficié d'une information spécifique à leur statut de médecin. Au final, la majorité des médecins généralistes penche en faveur d'une absence de modification radicale de leurs prises en charge. Cependant, ils évoquent l'augmentation de leur pensée à signaler ou du moins à questionner l'existence de potentielles violences au sein du couple. Enfin, ils soulignent entre autre une difficulté à estimer l'existence ou non d'une emprise psychologique.
Fichier principal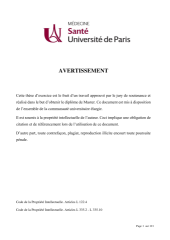 M2Ethique_LAMBERT_Nathan_DUMAS.pdf (1.68 Mo)
Télécharger le fichier
Origin : Files produced by the author(s)