Application des droits réels de jouissance spéciale à la mutualisation du stationnement
First, the pooling in the form of cooperated management is developing in France through public and private projects. Therefore, law set up plurality become necessary due to each projects constraints. Since the Maison de Poésie judgment, French law sets up a new law process especially interested for the so-called pooling. A parking spot owner can share to other the usefullness of this one provided in the real right. From now on, the case law bordered the right settlement, wich it's mandatory to know the operationnal set up before using it. The flexibility of the special enjoyement real rights makes this mechanism notably interesting for many car park pooling operations. At last, Being able to distinguish these operations according to the users typology allow us to show the adaptability of special enjoyement real rights concerning those law set ups.
La mutualisation sous forme de gestion foisonnée se développe en France à travers des projets publics mais également privés. Des contraintes de chaque projet, il en résulte une multiplicité de montage juridique. Depuis l'arrêt Maison de Poésie, le droit français offre un nouveau mécanisme juridique particulièrement intéressant pour ladite mutualisation. Un propriétaire d'une place de parking peut donc partager à autrui les utilités offertes par son bien à titre de droit réel. La jurisprudence a désormais précisé les contours du régime de ce droit, dont il est nécessaire de connaître avant de l'appliquer à un tel montage opérationnel. La flexibilité des droits réels de jouissance spéciale rend ce mécanisme intéressant pour plusieurs types d'opérations de mutualisation du stationnement. Distinguer ces opérations en fonction de la typologie des usagers permet de montrer l'adaptabilité des droits réels de jouissance spéciale relatif aux différents montages juridiques.
Fichier principal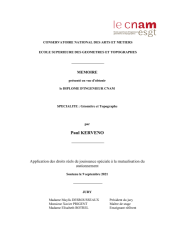 KERVENO Paul.pdf (1.95 Mo)
Télécharger le fichier
Origin : Files produced by the author(s)