What are general practitioners' experiences of using teleconsultation during the first wave of the Covid crisis ?
Quel est le vécu des médecins généralistes à l'utilisation de la téléconsultation pendant la première vague de la crise Covid ?
Introduction : In the context of COVID-19, containment is declared on March 16, 2020. Physicians are encouraged to use teleconsultation. Telemedicine deployment has been supported for years, yet physician perception is under-explored. The objective is to explore the experience of general practitioners to the use of teleconsultation during the 1st epidemic wave in XXX in 5 regions of XXX. Method : Conduct of a qualitative phenomenological study. Semi-structured interviews were conducted in person or by videoconference by 5 researchers between May and December 2020. Results : The emergency introduction of teleconsultation gave rise to a feeling of anger and even abandonment. It generated a fear of error and fraudulent practices. However, it has made it possible to work, to ensure continuity of care, to evaluate urgent situations. Although proud to have mastered this new practice, physicians seem frustrated. They find teleconsultation unsuitable due to the lack of a global vision and are indignant about performing "medicine on the cheap". Discussion : The subject matter at the heart of current events and the methodology adapted to the exploration of experience make the strengths of the study. The work by 5 researchers increased external validity. Interpretation bias was limited by the triangulation of data. Nonetheless, recruitment and investigative bias remain. Conclusion : The pandemic represents a stepping stone in the use of teleconsultation. Physicians' experiences are a mixture of anger, fear, and frustration, but also relief and excitement. Further work will explore whether the fears mentioned are well founded.
Introduction :  En contexte COVID-19, le confinement est décrété le 16/03/20. Les médecins sont encouragés à utiliser la téléconsultation.  Le déploiement de la télémédecine est soutenu depuis des années mais la perception des médecins est peu explorée. L'objectif est d'explorer le vécu des médecins généralistes à l'utilisation de la téléconsultation durant la 1ère vague épidémique à XXX dans 5 régions de XXX. Méthode : Réalisation d'une étude qualitative phénoménologique. Les entretiens semi-directifs étaient réalisés en présentiel ou visioconférence par 5 chercheurs entre mai et décembre 2020.   Résultats : L'instauration en urgence de la téléconsultation a suscité un sentiment de colère voire d'abandon. Elle a généré une crainte de l'erreur et de pratiques frauduleuses. Elle a permis de travailler, d'assurer une continuité des soins, d'évaluer les situations urgentes. Bien que fiers de maîtriser cette pratique nouvelle, les médecins semblent frustrés. Ils trouvent la téléconsultation inadaptée du fait de l'absence de vision globale et sont indignés de réaliser une « médecine au rabais ». Discussion : Le sujet d'actualité et la méthodologie adaptée à l'exploration du vécu font les forces de l'étude. Le travail par 5 chercheurs a permis d'augmenter la validité externe. Le biais d'interprétation a été limité par la triangulation des données. Néanmoins, il persiste un biais de recrutement et d'investigation. Conclusion : La pandémie représente un tremplin dans l'utilisation de la téléconsultation. Le vécu des médecins mêle colère, peur, frustration mais aussi soulagement et engouement. D'autres travaux pourront explorer si les craintes évoquées sont fondées.
Fichier principal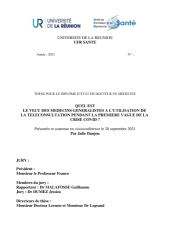 Danjou-Julie_4500124466.pdf (2.86 Mo)
Télécharger le fichier
Origin : Files produced by the author(s)