The injectable composite resin technique: minimally invasive esthetic and functional restauration of anterior sectors of an eroded dentition. Clinical case report with 6 months follow up.
La technique du composite injecté : restauration esthétique et fonctionnelle minimalement invasive des secteurs antérieurs chez le patient atteint d'érosion sévère. Cas clinique à 6 mois de suivi
In recent years, the prevalence of patients with erosive wear has been constantly increasing. The dental practitioner is faced with a real challenge in diagnosing and managing the etiology and therapy. With a minimally invasive approach, the practitioner must be able to satisfy aesthetics and function in a predictable and simplified manner. In anterior restorations, the literature suggests the use of direct or indirect techniques. To date, no single technique or material has been shown to be superior in managing these cases of wear. Direct techniques are for the most part time-consuming, operator-dependent, and may represent an aesthetic challenge for the clinician. The multiplicity and diversity of procedures often necessary for the global rehabilitation of these patients leads to consider the financial aspect. The aim of this work was to propose an alternative technique to the current methods, allowing the restoration of aesthetics and function in a simplified, predictive and precise way, while limiting its cost, through an original clinical case. Thus, we chose the injected composite technique to restore the mandibular anterior sector. This direct/indirect technique allows the injection of highly filled flowable resin (G-ænial ®Universal Injectable) through a transparent silicone index (Exaclear) made from a wax up. The results obtained immediately and at 6 months were satisfactory despite the presence of easily polishable stains during maintenance sessions. Only long-term follow-up and the multiplicity of further similar cases will allow the validity of this technique.
Ces dernières années, la prévalence des patients atteints d'usure érosive est en constante augmentation. Le praticien est confronté à un réel challenge quant à son diagnostic qu'à sa prise en charge étiologie et thérapeutique. Avec une approche minimalement invasive, le praticien doit pouvoir satisfaire de manière prévisible et simplifié l'esthétique et la fonction. Lors des restaurations antérieures, les données de la littérature proposent l'utilisation de techniques directes ou indirectes. À ce jour, aucune technique ou matériau n'a montré de supériorité dans la gestion de ces cas d'usure. Les techniques directes sont pour la plupart chronophages, opérateurs-dépendant et peuvent représenter un défi esthétique pour le praticien. La multiplicité et la diversité des actes souvent nécessaires à la réhabilitation globale de ces patients induisent de prendre en compte l'aspect financier. Le but de ce travail était de proposer une technique alternative aux méthodes actuelles, permettant de rétablir l'esthétique et la fonction de façon simplifiée, prédictive, précise, tout en limitant son coût, au travers d'un cas clinique original. Ainsi, notre choix s'est porté sur la technique du composite injecté pour restaurer le secteur antérieur mandibulaire. Cette technique directe/indirecte permet d'injecter au travers d'une clé en silicone transparent (Exaclear) réalisé à partir d'un wax up, du composite fluide hautement chargé (G-ænial ®Universal Injectable). Les résultats obtenus immédiatement ainsi qu'à 6 mois étaient satisfaisants malgré la présence de tâches facilement polissables lors des séances de maintenance. Seul le suivi au long terme et la multiplicité de cas similaires permettront la validation de cette technique.
Fichier principal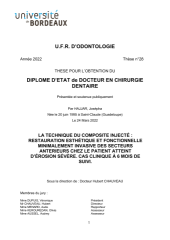 Odonto_2022_Hajjar.pdf (20.7 Mo)
Télécharger le fichier
Origin : Files produced by the author(s)