Perception of family caregivers about liquid thickening in old patients affected by oropharyngeal dysphagia
Perception des aidants familiaux concernant l'épaississement des liquides chez les patients âgés ayant des troubles de la déglutition
Oropharyngeal Dysphagia (OD) is frequent in old patients. This geriatric syndrome impairs safety and/or efficacy of swallowing resulting in aspiration pneumonia and malnutrition. OD may be assessed by the volume viscosity swallowing test (V-VST). Prevention of the complications of OD include environmental measures and liquid thickening. In old patients, family caregivers are on the front line in the management of OD and liquid thickening. However, the long-term benefit of liquid thickening is controversial. Our aim was to evaluate, in a qualitative aspect, the feeling of family caregivers about liquid thickening, after the hospitalization of an old patient with OD. We also assessed the proportion of old patients with OD truly eligible for daily liquid thickening at home. Patients and Methods: This qualitative study included family caregivers and patients with OD hospitalized in an acute geriatric ward. OD was diagnosed with V-VST. Patients truly appropriate for liquid thickening at home were those with preserved cognitive and functional abilities and those with a family caregiver at home daily. The family caregivers participated in an educational session about OD and liquid thickening. Qualitative data about the feeling of the caregivers about OD were collected through phone interviews two weeks after the discharge at home. COREQ criteria for qualitative studies were used. Participants were recruited until the findings reached saturation, and data were analyzed using qualitative content analysis.
Results:
One hundred eighty-one patients were hospitalized between January and March 2022 in our acute geriatric ward. Twenty-three had a pathologic V-VST and were discharged home. Eighteen were truly appropriate for liquid thickening because of the daily presence of a family caregiver at home. Eight patient-caregiver dyads were included in the qualitative study. A wide range of themes emerged from the data and were synthesized into three main categories: family caregivers' empowerment; experience and perception about thickening powder; and change in the patient-caregiver relationship. Conclusions: This study highlights the consequences of OD and liquid thickening at home on the patient and their family caregiver. The findings emphasize the difficulty of maintaining the liquid thickening by the caregivers at home. This argues for a better education of caregivers about OD but not for a systematic prescription of liquid thickening.
Les troubles de la déglutition oropharyngée (TDO) sont fréquents chez les sujets âgés. Ce syndrome gériatrique compromet la sécurité et/ou l'efficacité de la déglutition. Les TDO peuvent être détectés par le volume-viscosity swallowing test (V-VST). L'installation et l'épaississement des liquides font partie de la prévention des complications des TDO. Chez les patients âgés, les aidants familiaux sont en première ligne de la gestion des TDO et de l'épaississement des liquides. Néanmoins, le bénéfice à long terme de cette adaptation est controversé. Notre objectif était d'évaluer qualitativement la perception concernant l'épaississement des liquides des aidants familiaux de patients âgés avec TDO . La proportion des patients âgés avec des TDO vraiment éligibles à l'épaississement des liquides quotidien à domicile a été également évaluée. Patients et Méthodes : cette étude qualitative a inclus les aidants familiaux et les patients avec des TDO hospitalisés dans le service de médecine gériatrique aiguë. Les TDO ont été dépistés par le V-VST. Les patients vraiment éligibles à l'épaississement des liquides à domicile étaient ceux ayant des capacités fonctionnelles et cognitives préservées ou ceux ayant un aidant familial présent à domicile quotidiennement. Les aidants familiaux ont été formés aux TDO et à l'épaississement des liquides. Les données qualitatives sur le ressenti des aidants sur les TDO ont été évaluées par entretiens téléphoniques 2 semaines après le retour à domicile. Les critères COREQ ont été utilisés. Les participants ont été interrogés jusqu'à saturation des données et les entretiens ont été analysés par analyse qualitative des contenus. Résultats : 181 patients ont été hospitalisés entre janvier et mars 2022. 23 patients sortis à domicile avaient un V-VST pathologique. 18 étaient vraiment éligibles à l'épaississement des liquides en raison de la présence quotidienne d'un aidant familial. 8 dyades patient-aidant familial ont été inclus dans l'étude qualitative. Les thématiques identifiées par l'analyse qualitative des données ont été regroupées en 3 catégories principales : l'amélioration de l'expérience des aidants familiaux, le ressenti sur l'épaississant des liquides et le changement du rapport patient-aidant. Conclusions : cette étude confirme les difficultés des aidants familiaux concernant l'épaississement des liquides à domicile. Ces résultats suggèrent qu'une meilleure formation des aidants aux TDO est nécessaire plutôt que la prescription systématique d'épaississant.
Fichier principal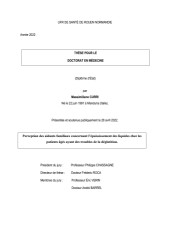 Curri_Massimiliano.pdf (11.22 Mo)
Télécharger le fichier
Origin : Files produced by the author(s)