TOMO-PITON : Restitution du champ de vapeur d'eau 3-D par tomographie GNSS sur la zone du Piton de la Fournaise, île de La Réunion
The water vapour has an essential role in many areas (weather forecasts ...) succeeding in restoring it is therefore a major issue. Today, GNSS systems allow a restitution of the 3-D field of water vapour at a lower cost by studying atmospheric parameters. This dissertation will study the case of the GNSS network of Reunion Island. A first study has already been carried out on the city of Le Mans, nevertheless, the strong topographical gradients of Reunion Island will influence the 3-D water vapour field. A study of the GNSS network and parametrization of the tomography software is carried out. A comparison with a forecast weather model (MESO-NH) is made, highlighting differences. Knowing that we are able to relocate this 3-D field of water vapour, a study of its contribution in the prediction of meteorological phenomena is made, including the Batsirai hurricane. Finally, due to its heterogeneity, the GNSS network in Reunion has many areas without information, the implementation of synthetic observables is therefore approached in order to compensate for this lack.
La vapeur d'eau a un rôle essentiel dans de nombreux domaines (prévisions météorologiques...), réussir à la restituer est donc un enjeu majeur. Aujourd'hui, les systèmes GNSS permettent une restitution du champ 3-D de vapeur d'eau à moindre coût en étudiant les paramètres atmosphériques. Ce mémoire a étudié le cas du réseau GNSS de l'île de La Réunion. Une première étude avait déjà été effectuée sur la ville du Mans, néanmoins, les forts gradients topographiques de l'île de La Réunion vont influencer sur la distribution du champ de vapeur d'eau 3-D. Une étude du réseau GNSS et du paramétrage du logiciel de tomographie est réalisée. Une comparaison avec un modèle météorologique prévisionnel (MESO-NH) est faite, mettant en avant des écarts. Sachant que nous sommes capables de restituer un champ 3-D de vapeur d'eau, l'analyse de son apport dans les prévisions de phénomènes météorologiques est faite, notamment avec cas du cyclone Batsirai. Enfin, l'hétérogénéité du réseau GNSS réunionnais présente de nombreuses zones sans information, la mise en place d'observables synthétiques est donc abordée de manière à pallier ce manque.
Fichier principal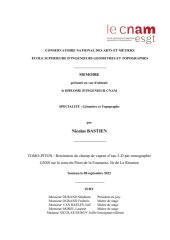 BASTIEN Nicolas.pdf (5.14 Mo)
Télécharger le fichier
Origin : Files produced by the author(s)