Apaisement, adaptabilité, et sensorialité en (pédo)psychiatrie
In the psychiatric setting, care practices have always been discussed and questioned. Isolating a patient in a room or using restraint are used on a daily basis but divide opinions as to their effectiveness and necessity. Alternatives are beginning to emerge with the aim of reducing or even replacing these practices. Thus, spaces are being developed that emphasise hospitality, soothing and sensoriality with the aim of restoring dignity, autonomy and empowerment to both adult and child patients. In this thesis, we propose a framework for theoretical and practical reflection on these spaces that help to prevent or manage crises, and on the way in which the designer can appropriate these issues through his creative and collaborative methods.
Dans le milieu psychiatrique, les pratiques soignantes ont depuis toujours été discutées et remises en question. L'isolement d'un patient dans une pièce ou le fait d'avoir recours à la contrainte et à la contention sont utilisés quotidiennement mais divisent les opinions quant à leur efficacité et leur nécessité. Des alternatives commencent à voir le jour dans le but de diminuer ces pratiques voire de les remplacer. Ainsi, des espaces se développent mettant en avant l'hospitalité, l'apaisement et la sensorialité dans le but de redonner de la dignité, de l'autonomie et du pouvoir d'agir aux patients adultes comme aux patients enfants. Dans ce mémoire, nous proposons un cadre de réflexion théorique et pratique autour de ces espaces qui aident à prévenir la crise ou à la gérer, et de la manière dont le designer peut s'approprier ces questionnements grâce à ses méthodes créatives et collaboratives.
Fichier principal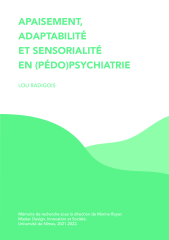 Radigois_Lou_M2DIS_DUMAS_2021-2022.pdf (11.25 Mo)
Télécharger le fichier
Origin : Files produced by the author(s)