Les interactions entre plantes et médicaments
Complementary and Alternative Medicine (CAM) are currently a craze in developed countries, particularly among patients on drug treatment in the long term. Among these medicines, herbal medicine has an important place. The pharmacist is in this context, an important source of information because in addition to discussing the potential benefits of these products, it must be able to assess the risk of potential interactions. To accomplish this mission, it must have access to reliable and relevant data. However, there are only some databases and websites providing access to this information. Therefore in our work, a critical analysis of available sources was performed, allowing the development of a table ranking and listing the most relevant websites providing access to good quality information that can be used in current practice. Our literature search was then led to the development of several sheets about the majority of the plants used in rheumatology, a frequent chronic disease for which many patients use herbs, but also on plants resulting in most of the interactions identified. All herb-drug interactions identified were synthesized in a summary table. This work also enabled the development of an existing thesaurus (Hopital de la Croix Rousse) which may constitute a useful tool for clinical pharmacist in the analysis and validation of medical prescriptions.
Les médecines complémentaires et alternatives (MCA) connaissent actuellement un véritable engouement dans les pays développés, en particulier chez les patients suivant des traitements médicamenteux au long cours. Parmi ces médecines, la phytothérapie tient une place importante. Le pharmacien représente, dans ce contexte, une source importante d'information car en plus de discuter des avantages possibles de ces produits, il doit être capable d'évaluer les risques d'interactions potentielles. Pour accomplir cette mission, il doit avoir accès à des données fiables et pertinentes. Il n'existe cependant que quelques bases de données et sites Internet donnant accès à ces informations. C'est pourquoi dans notre travail, une analyse critique des sources disponibles a été réalisée, permettant l'élaboration d'un tableau classant et répertoriant les sites Internet les plus pertinents donnant accès à des informations de bonne qualité pouvant être utilisés dans la pratique courante. Notre recherche bibliographique a ensuite conduit à l'élaboration de plusieurs fiches sur la majorité des plantes utilisées en rhumatologie, pathologie chronique fréquente pour laquelle de nombreux patients ont recours à la phytothérapie, mais aussi sur les plantes donnant lieu à la plupart des interactions recensées. Toutes les interactions plantes-médicaments recensées ont été synthétisées dans un tableau récapitulatif. Ce travail a également permis le développement d'un thésaurus préexistant (Hôpitaux de la Croix Rousse), pouvant constituer un outil de travail utile au pharmacien clinicien lors de l'analyse et de la validation de prescriptions médicales.
Fichier principal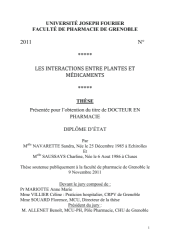 2011GRE17052_navarette_sandra_et_saussays_charline_1_D_.pdf (7.24 Mo)
Télécharger le fichier