Sociabilité savante et transmission de savoirs dans Éloges des académiciens de l'Académie royale des sciences par le Marquis de Condorcet
Condorcet (1743-1794) had a name that everyone heard. He is known as a glorious man of the Age of Enlightenment and of the French Revolution. He is also known for his legislative work about education in the 18th century. But, behind the shadows of political action, is his scientific activity, which is mostly treated in Tableau historique des progrès de l'esprit humain. This study will present his Éloges des académiciens de l'Académie royale des sciences, written between 1776 and 1791, during he was permanent secretary but also during Grandjean de Fouchy was in place four years before. This precious piece of writing is made of our thousand pages and recounts about sixty one lifes of scientists. We cannot study here each praise in details, but this writing will give to the reader a general approach of Condorcet's work through two axis: the scientific sociability and the transmission of knowledge. It will be developed in three points. First the praises are giving a particular picture of the royal academy as an institution and through his activity. The relations between his members (friendships and intellectual wars) will also be treated in the same time. Then, as these writings are the work of one man, Condorcet, it is very interesting to see what he put from his personal and enlighten ideas into the praises and which part these ones play in his life. Because we cannot could'nt see every praise in this study, we will focus on four of them with more details than in the two first parts. Theses ones are La Condamine, d'Alembert, Fouchy and Buffon. The main idea of this writing is to give to the next readers of the Éloges des académiciens some tracks to follow, and find more quickly the object of their hunt researches into them.
Condorcet (1743-1794) est un homme dont le nom n'est pas sans évoquer la Révolution, les Lumières ou encore l'éducation du XVIIIe siècle. Bien souvent, son activité scientifique s'est trouvée dans l'ombre de sa politique particulièrement éclairée. La présente étude a pour objet ses Éloges des académiciens de l'Académie royale des sciences, écrits tout au long de son secrétariat perpétuel entre 1776 et 1791, mais aussi les quelques-uns réalisés sur l'instance de Grandjean de Fouchy pendant les quatre années précédant sa nomination. Ces écrits particulièrement précieux s'étendent sur près de quatre mille pages et font l'apologie de pas moins de soixante-et-un académiciens. Ne pouvant englober ici la totalité des aspects présents dans les éloges au cours d'un mémoire, la recherche aura ici à cœur de fouiller dans les écrits pour mieux exhumer deux points majeurs : la sociabilité savante au sein de l'Académie royale des sciences d'abord, mais aussi la transmission de savoirs qui s'opère par le biais des hommages aux défunts. Il s'agit donc, au travers de cette étude, de permettre au lecteur d'avoir une vision générale de la source et de lui donner des pistes tout au long de son appréhension des éloges. Pour ce faire, il a été choisi en premier lieu de révéler l'Académie sous sa forme institutionnelle au sein des éloges, mais aussi d'examiner la façon dont sont mises en scène les relations entre les différents scientifiques qui en sont membres. Dans un second temps, il est question de voir comment Condorcet distille ses valeurs personnelles dans les éloges et comment ces derniers ont joué un rôle particulièrement influent dans sa vie. Enfin, puisqu'il est impossible de traiter de la vie de tous les académiciens, le lecteur pourra trouver des détails sur la manière dont La Condamine, d'Alembert, Fouchy et Buffon sont traités par Condorcet.
Fichier principal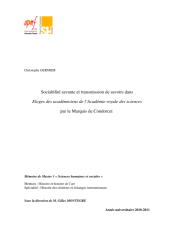 Germier_Christophe_-_Sociabilite_savante_et_transmission_de_savoirs.pdf (742.58 Ko)
Télécharger le fichier