Langue et identités transfrontalières : la pratique du francoprovençal dans le "Far-West" français
Regional languages in France are numerous and varied, some more known than others are quite visible in public space. However, the francoprovençal, which is our object of study is much less. The francoprovençal involves three neighboring countries: France, Italy and Switzerland, yet our study focuses on the French side of the area francoprovençal especially the west, called the "Far West". Its belated revival of the language compared with other regions, including the Val d'Aosta, has special characteristics that we undertake to analyze. The francoprovençal is not legally recognized by the French authority, that's why it's necessary to identify the essence, the players and the stakes of this revival, mainly associative. This definition of "Far West" francoprovençal is put into perspective with the particular case of the Val d'Aosta, citadel of francoprovençal. The issues raised in our study are recontextualized in the chaotic path of regional languages in modern times. Raising questions on the issue of speaking a regional language today, its consequences, and so on. The regional language is a real place of remembrance. Here it is approached as an object of history which we explain the study and ask limits.
Les langues régionales en France métropolitaine sont nombreuses et variées, certaines plus connues que d'autres sont relativement visibles dans l'espace public. En revanche, le francoprovençal, qui est notre objet d'étude, l'est beaucoup moins. Ce dernier concerne trois pays limitrophes : la France, l'Italie et la Suisse ; or, notre étude s'intéresse à la partie française de la zone francoprovençale et plus particulièrement la zone ouest, qualifiée de "Far-West". Sa tardive reviviscence de la langue au regard des autres régions, notamment le Val d'Aoste, présente des caractéristiques particulières que nous entreprenons d'analyser. Le francoprovençal n'étant pas reconnu légalement par l'État français, il convient d'identifier l'essence, les acteurs et les enjeux de sa reviviscence, associative principalement. Cette définition du "Far-West" francoprovençal est mise en perspective avec le cas particulier du Val d'Aoste, véritable citadelle du francoprovençal. Les problématiques soulevées dans notre étude sont recontextualisées dans le cheminement chaotique des langues régionales à l'époque contemporaine, soulevant ainsi des questionnements sur l'enjeu de parler une langue régionale aujourd'hui, ses conséquences, etc. Véritable lieu de mémoire, la langue régionale est ici abordée comme objet d'histoire dont nous expliquons l'étude et posons les limites.
Fichier principal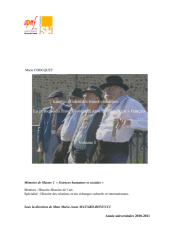 Chocquet_Marie_-_Langue_et_identites_transfrontalieres_1.pdf (3.48 Mo)
Télécharger le fichier

Chocquet_Marie_-_Langue_et_identites_transfrontalieres_2.pdf (9.62 Mo)
Télécharger le fichier