La publication des Libri de re rustica à la Renaissance : étude d'une production, les Libri de re rustica chez Sébastien Gryphe, à Lyon
During the Renaissance, from their desire to revive antiquity as a whole, humanists were interested in the minor texts of classical literature. Among these works, there were agronomists Latin's treatises on agriculture. Published in collective editions and under the conventional title of Libri de re rustica, treatrises of Cato, Varro, Columella and Palladius were the subject of many publications and reissues from the late fifteenth century to the late sixteenth century. They were notably published by Sebastian Gryphius in Lyon, in the middle of the fifteenth century. This production of minor classical texts aroused the interest of the recognized scientific editor : Piero Vettori.
À la Renaissance, par leur volonté de renouer avec l'Antiquité dans son ensemble, les humanistes se sont intéressés à des textes mineurs de la littérature classique. Parmi ces oeuvres, on trouve les traités d'agriculture des agronomes latins. Publiés sous forme d'éditions collectives et sous le titre conventionnel de Libri de re rustica, les traités de Caton, Varron, Columelle et Palladius ont fait l'objet de nombreuses éditions et rééditions dès la fin du XVe siècle et jusqu'à la fin du XVIe siècle. Ils sont notamment sortis des presses lyonnaises de Sébastien Gryphe, au milieu du XVIe siècle. Cette production de textes classiques mineurs a pourtant suscité l'intérêt d'un éditeur scientifique humaniste reconnu : l'italien Piero Vettori.
Fichier principal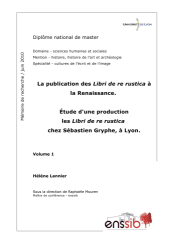 Helene_Lannier_Master_1_CEI_Memoire_de_recherche_volume_1.pdf (1.01 Mo)
Télécharger le fichier