Amélioration de la technique d'enrobage de graines d'espèces endémiques avec des spores de champignons mycorhiziens pour la revégétalisation de sites miniers par hydroseeding
In order to make easier the reestablishment of New-Caledonia endemic species on degraded soils by Nickel mining exploitations when topsoil use is impossible, the use of mycorrhizal symbiosis seems to be a good opportunity. Indeed, those micro-organisms provide plants with the ability to resist to water and metallic stresses. To ensure plants mycorhizis from their germination after hydroseeding, so for better performance in revegetation, we tested a mycorrhizal seed coating technic which appears to be the best with Alginate at 12,5g/L in distilled water which pH is taken to 7,5 containing mycorrhizal fungi spores. If this technic leads to the half the AMF spores germination, it permitted 40% of roots mycorhization, a rate barely reached by classic inoculation with double quantity of inoculant. By the way, this coating can also be stored once dry without mitigating these proprieties.
Pour faciliter la réimplantation d'espèces végétales endémiques de la Nouvelle Calédonie sur des sols ayant été dégradés par l'exploitation minière lorsque la réutilisation de topsoils est impossible, l'utilisation de la symbiose mycorhizienne semble être une technique intéressante. En effet, ces micro-organismes confèrent aux plantes une capacité de résistivité aux stress hydrique et métallique. De manière à assurer la mycorhization des plants dès leur germination après hydroseeding, nous avons mis en place une technique d'enrobage des graines d'espèces endémiques à partir d'Alginate, concentré à 12,5g/L, dissout dans de l'eau distillée dont le pH a été ajusté à 7,5, contenant les spores de champignon mycorhizien. Si cette technique entraîne une diminution de moitié du taux de germination des spores pour un même temps de germination, elle permet tout de même un taux de mycorhization racinaire de 40% pour les plants dont les graines ont été enrobées. Un taux à peine atteint par inoculation classique avec un inoculum deux fois plus riche en quantité. Cet enrobage peut, par ailleurs, être conservé une fois séché sans perdre ses propriétés.
Fichier principal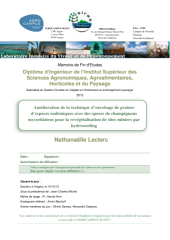 Nathanaelle_Leclerc_Enrobage_graines_especes_endemiques_hydroseeding.pdf (4.77 Mo)
Télécharger le fichier