La Méditerranée : quels maillages territoriaux ?
The Mediterranean offers a formidable operating area of demographic study. Situations are many and varied; dynamics in progress and future potentially have the society and stakes evolutions of tomorrow. The study of this space has assumptions and methods work. This memory is intended to analyze the territorial grids particularly. They often constitute a particular tool of apprehension of reality. The principal advantage of this method is the exhaustiveness of data. Its theoretical disadvantages are less in spite of their importance. The territorial grids authorize many analyzes and progress scientific, but they must be question. The use of territorial grids raises issues, gathered under MAUP: "Modifiable Area Links Problem". In a particular context of research, DEMOMED-MMSH, this memory proposes a methodological thought on the territorial grids and MAUP. This theoretical base is used for the questioning and the study of the Mediterranean territorial grids. Finally, my work tries to obtain a coherent Mediterranean territorial grid. The results are marred by a lack of data. Indeed, the available data on Internet are insufficient to study all the administrative grids. However, the thought and applications draw here limit my work of Master 2, but opens many tracks of research for a thesis.
Les aspects concernés par les enjeux du vieillissement de population sont nombreux. L'importance de ce phénomène démographique ne doit pas être sous-estimée au vue de ses multiples implications dans les domaines économique, social ou encore éthique. De ce point de vue, la Méditerranée constitue une aire d'étude idéale de par l'hétérogénéité de ses situations régionales. L'évolution du vieillissement méditerranéen déterminera non seulement une grande part des migrations futures de cette aire géographique, mais également les avancées sociales. Son étude permet de mieux appréhender les enjeux de l'avenir. Cet objectif nécessite une étape préliminaire : l'analyse des maillages territoriaux de Méditerranée. Cette manière d'aborder la réalité comporte un certain nombre de limites théoriques, dont le MAUP. Ne pas tenir compte de ces biais constitue réellement un danger pour toute analyse spatiale, statistique et cartographique. Une réflexion méthodologique développe les approches à adopter pour limiter l'influence de ces biais. L'analyse des maillages méditerranéens prend appui sur cette démarche théorique. Cette dernière, basée sur un recueil de données électroniques, étudie l'homogénéité des maillages selon les critères de population et de superficie. Limité par les déficits de données, ce mémoire aborde la question d'harmonisation des maillages méditerranéens.
Fichier principal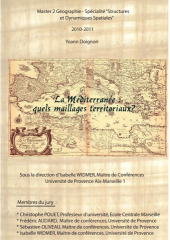 Doignon_M2_-_La_MA_diterranA_e_-_Quels_maillages_territoriaux.pdf (4.91 Mo)
Télécharger le fichier