Intégration d'un nouveau dispositif de contrôle de qualité dans des coopératives laitières autour de Casablanca
The Moroccan dairy industry is undergoing a process of evolution to improve the quality of the dairy products supplied by the manufacturer to the consumer. Dairy cooperatives are the main source of milk for products from the manufacturer. Nevertheless, they have a problem of inconsistent quality of the raw milk delivered by their members who skim residual fat from it beforehand. This practice has negative consequences on the finances of the cooperative and negative impacts on the relationship between its members. CL has installed an instrument that measures physicochemical parameters of milk in a number of cooperatives in the Chaouia-Ouardigha and Sahel regions. The way cooperatives manage the integration of this tool will determine the success or failure of the development of milk quality supplied by them. This study describes how four cooperatives organize the management of this new device and seeks to shed light on what factors must be taken into account to promote its sustainability.
Au Maroc, les coopératives de collecte de lait sont la principale source pour l'approvisionnement en lait par les industriels. Elles ont cependant souvent un problème de qualité du lait livré par leurs adhérents. Ceux-ci écrèment parfois le lait avant de le livrer dans le bac collectif de la coopérative avec des conséquences négatives sur les comptes des coopératives et les relations entre adhérents. Dans les zones rurales autour de Casablanca, des coopératives ont installé une machine qui analyse, de façon rapide, des paramètres physico-chimiques du lait. La façon dans laquelle les coopératives gèrent l'intégration de cet outil va conditionner le succès ou l'échec du développement d'une démarche de qualité au sein de ces coopératives. L'étude décrit la gestion de ce dispositif dans quatre coopératives de cette région et analyse les facteurs qui influent sur sa durabilité. Trois coopératives ont réussi à entrer dans une démarche de qualité, qui se traduit notamment par un paiement à la qualité aux producteurs de lait. Dans la quatrième coopérative, les tensions liées à la mise en oeuvre du dispositif ont fait que la machine n'est plus guère utilisée. La durabilité du dispositif ne renvoie pas qu'à une relation entre producteurs et coopératives, mais doit aussi inclure les relations entre coopératives et industriels.
Fichier principal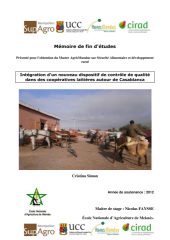 Simon_Cristina_-_Nouveau_dispositif_de_controle_de_qualite_dans_des_cooperatives_laitieres_autour_de_Casablanca.pdf (2.83 Mo)
Télécharger le fichier