L'information des aidants naturels de malades dépendants à domicile : enquête de satisfaction sur l'information reçue et analyse des besoins
Introduction: Family caregivers are essential to home care dependent patients. Several studies show that they need information. It is important to facilitate information access. The aim of our study was to evaluate the family caregivers' satisfaction about the information they received and to identify their needs. The secondary objective was to create a document for caregivers to help them in their information quest. Professionals could also use this document to improve communication. Methods: We performed a declarative survey with a self-administered questionnaire to 77 home family caregivers of dependent patients in Annecy area, all ages and pathology combined. They were recruited in outpatient consultations at hospital and community consultations. Results: Caregivers were 62.9% to be satisfied with the information received, 58.4% felt that having information could help them to better live their support. They were 45.5% to need information on possible aid, 40.3% on administrative procedures, 42.9% needed training in psychological support for their loved. The doctor (general practitioner or specialist) was the preferred informant to give information in consultation or home visit. Conclusion: Most caregivers are satisfied with the information received. They prefer information given by doctors, orally during a consultation or a home visit. With this observation, we made a written document that professionals can use to improve oral communication with caregivers. The aim of this document is to guide Annecy area caregivers to local structures according to their needs.
Introduction : Les aidants naturels sont essentiels au maintien à domicile de malades dépendants. Plusieurs études montrent qu'ils ont besoin d'information. Il est important d'en faciliter l'accès. L'objectif de notre étude était d'évaluer la satisfaction des aidants par rapport à l'information reçue et d'identifier leurs besoins. L'objectif secondaire était de réaliser une fiche d'information pour l'aidant, servant de support à la communication orale des soignants. Matériel et méthodes : Nous avons réalisé une enquête déclarative par questionnaire auto administré auprès de 77 aidants naturels de malades dépendants à domicile du bassin annécien, tout âge et toute pathologie confondue, recrutés en consultation hospitalière et communautaire. Résultats : Les aidants étaient 62,9% à être satisfaits de l'information reçue, 58,4% estimaient que l'apport d'information leur permettrait de mieux vivre leur accompagnement. Ils étaient 45,5% à avoir besoin d'informations sur les aides possibles, 40,3% sur les démarches administratives, 42,9% avaient besoin d'une formation au soutien psychologique de l'aidé. Le médecin (traitant ou spécialiste) était l'informateur préférentiel pour délivrer l'information en consultation ou en visite à domicile. Conclusion : Les aidants sont majoritairement satisfaits de l'information reçue. Ils préfèrent une information transmise par les médecins, par oral lors d'une consultation ou d'une visite à domicile. Nous avons donc réalisé une fiche d'information pour les aidants du bassin annécien afin de les orienter vers les structures locales en fonction de leurs besoins. C'est aussi un support de communication orale pour les soignants.
Fichier principal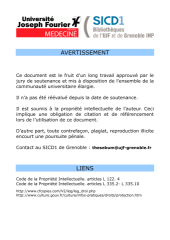 2013GRE15037_besson_lauren_et_vandame_cecile_1_D_.pdf (5.13 Mo)
Télécharger le fichier