Problématiques de santé chez les travailleurs saisonniers et pistes de réflexion pour une meilleure prise en charge : enquête en stations de sports d'hiver de Tarentaise
Objectives: The aim of our study was to evaluate the living conditions and major health problems of seasonal workers in the Tarentaise. ldentify potential obstacles to support and suggest advances in care. Methodology: We used a descriptive study conducted during the 2011-2012 winter season in nine ski resorts of Tarentaise using an anonymous questionnaire. Participants included seasonal workers. Results: Four hundred and two participants took part in the study. The population was young, relatively skilled, mostly single, without children and migrant. The participants are mostly satisfied with housing arrangements and living with a roommate in 53% of cases. The consumption of psychoactive substances is high, 74.5% drink wine, 71.5% drink beer, 66% drink spirits, 34.5% use illicit substances and 61% smoke tobacco. Among the respondents 27.6% reported engaging in at-risk sexual behaviour during the season. The main health problems were infectious and psychological conditions. 59% of participants had a regular general practitioner and 31% had an obstacle to the consultation. Only 40% said they underwent a work health check. 56% of participants were aware of community "Health Days". Conclusion: Results indicate that seasonal workers and persons affected by seasonality in the Tarentaise are young, engage in many risk behaviors and lack medical follow-up. Thus prevention days such as "Health Days" and initial work health checks are particularly important.
Objectifs : L'objectif de notre étude était d'évaluer les conditions de vie des travailleurs saisonniers en Tarentaise, leurs principaux problèmes de santé et de détecter d'éventuels freins à leur prise en charge afin de préconiser des perspectives d'évolution. Méthodologie : Il s'agissait d'une étude descriptive réalisée lors de la saison d'hiver 2011-2012 dans 9 stations de ski de Tarentaise à l'aide d'un questionnaire anonyme. Étaient inclus dans l'étude tous travailleurs saisonniers. Résultats : Quatre cent deux saisonniers ont été inclus. La population était jeune, relativement qualifiée, majoritairement célibataire et sans enfant, migrante. Les saisonniers étaient majoritairement satisfaits de leur logement, 53% vivaient en colocation. La consommation de produits psychoactifs était importante, 74.5% consommaient du vin, 71.5% de la bière, 66% des alcools forts, 34.5% des produits illicites et 61% du tabac. Parmi les participants, 27.6% déclaraient avoir eu une conduite sexuelle à risque pendant la saison. Les principaux problèmes de santé étaient infectieux et psychologique. Les saisonniers avaient peu de suivi médical. Un frein à la consultation était retrouvé chez 31% des participants. Seulement 40% disaient avoir eu une visite médicale d'embauche. Les journées de prévention type "journées santé" étaient connues par 56% des participants. Conclusion : Il s'agit d'une population jeune présentant de nombreuses conduites à risque et ayant peu de suivi médical. De ce fait, les journées de prévention et les visites médicales d'embauche sont importantes.
Fichier principal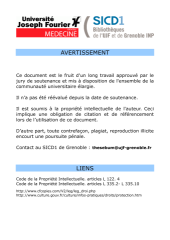 2013GRE15027_ragimbeau_claire_et_villaume_estelle_1_D_.pdf (3.3 Mo)
Télécharger le fichier