L'utilisation des cartes heuristiques pour l'enseignement des collocations en FLE
This work provides an overview on the use of mind maps as a tool for the memorization of lexicon, particularly collocations in the teaching of French as a foreign language. It explains the creation of the educational part of the EmoBase website, dedicated to the study and teaching of collocations in the lexical field of emotions and offers examples of lesson planning including mind maps aimed at learning collocations.
Ce travail propose une réflexion sur l'utilisation de la carte heuristique comme outil de mémorisation du lexique et plus particulièrement des collocations dans l'enseignement du FLE. Il présente la conception d'EmoProf, la partie didactique du site EmoBase, dédié à l'enseignement des collocations du lexique des émotions et propose des exemples de séquences didactiques intégrant les cartes heuristiques ayant pour but l'aide à l'apprentissage de ces collocations.
Fichier principal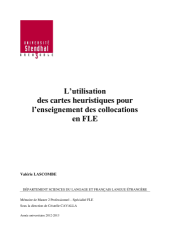 LASCOMBE_Valerie_M2P_FLE_2013_biffé.pdf (2.69 Mo)
Télécharger le fichier
LASCOMBE_Valerie_M2P_FLE_2013_Annexes.pdf (4.49 Mo)
Télécharger le fichier