Le rôle et le statut de la violence dans les foules
Crowds have traditionally been a topic that suffers from a lot of prejudice and implied widespread suspicion about the phenomena. Most areas (philosophy, literature or painting...) usually have a strong tendency to personify them. By giving a soul to the crowds, they are consequently considered a monster and a call for broad-scaled madness. The concept of the soul, added to the notoriety of Le Bon's work, has turned out to be the keystone of that negative portrait. Violence appears as something obvious. Nonetheless, it would be wrong to reduce it to barbarism. Thus the large gatherings of people that we meet today are various and multiple, therefore the violence is different as well as in its form and nature. As an instrument of expression, violence should not be envisaged as a sickness, but rather as a symptom. Smart mobs, which are modern crowds that gather, grow and act through the use of social media, best describe nowadays all the plurality and complexity of the crowds. New difficulties are now encountered through the emergence of such gatherings, for instance the confusion between the private and the public space. The computer-based environment brings into question the notion of illegality and is seeing the rise of a new form of resistance by the means of pirating which paves the way to recreational violence through the massive use of sharing websites in order to generate a buzz. Yet, presenting violence as a play is problematic. It is insufficient to define it through illegitimacy, illegality or through the pain that one may feel. It then seems important to consider violence as a fact and not as a norm. Some assemblies of people are meant to sink into violence, others not. This is cooperation that prevents them from violent behaviour and enables them to be moderated. Violence, as a fact, is always an overflow.
Les foules s'avèrent être un objet d'étude au passé lourd de préjugés. Incitant traditionnellement à la méfiance, il est courant de voir dans les divers domaines (philosophie, littérature, peinture...) traitant du phénomène une tendance à la personnification. Monstrueuse et appelant à l'hystérie collective, les foules sont dotées d'une âme. Concept qui, en plus des travaux célèbres de Le Bon, participera à ce portrait négatif. La violence apparaît comme une évidence. Cependant, il est réducteur de l'assimiler à un acte de barbarisme. Ainsi, les multiples rassemblements auxquels nous sommes confrontés nous indiquent que la violence elle-même peut revêtir des formes et une nature différente et que, de plus, en tant qu'outils d'expression, elle doit être perçue comme un symptôme bien plutôt que comme une maladie. Les smart mobs, foules modernes prenant leur essor grâce aux réseaux sociaux, décrivent à l'heure actuelle toute la pluralité et la complexité des foules. Ils nous emmènent d'autre part vers d'autres difficultés. La confusion du privé et du public rend la chasse à la criminalité plus ardue. Le monde virtuel remet en question la notion d'illégalité, offre une nouvelle forme de résistance par les moyens du piratage et ouvre la porte à la violence récréative par l'utilisation massive des sites de partage afin de créer le buzz. Pourtant, faire de la violence un jeu pose problème. Tout comme il est insuffisant de la définir au travers l'illégitimité, l'illégalité, ou encore la douleur causée. Il est important de voir la violence comme un fait et non comme une norme. Certains collectifs sont voués à la violence, d'autres non. C'est la coopération qui assure au collectif un comportement non-violent et modéré. La violence renvoie, en tant que fait, au débordement.
Fichier principal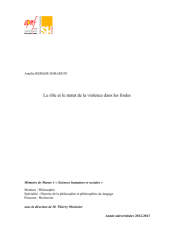 Berger_Soraruff_Amelie_-_Le_role_et_le_statut_de_la_violence_dans_les_foules.pdf (607.37 Ko)
Télécharger le fichier