Les troubles du calcul et des connaissances sémantiques des nombres dans la maladie d'Alzheimer
This study aims to investigate calculation and semantic number knowledge disorders in Alzheimer's disease (AD). The standardized and normalized battery of tests ECAN enabled an analysis to be performed in 49 AD patients for simple and complex calculation skills and semantic number knowledge. Results demonstrate that, at an early stage in the disease, these abilities are significantly impaired in terms of accuracy and particularly in terms of length of time taken to complete tests. Furthermore, findings of this study contribute to the validation of this tool as for its use with people suffering from Alzheimer's disease.
Cette étude porte sur l'évaluation des troubles du calcul et des connaissances sémantiques liées aux nombres, dans la démence de type Alzheimer. La batterie standardisée et normalisée ECAN a permis l'analyse des performances de 49 patients Alzheimer en calcul simple et complexe et en connaissances usuelles des nombres. Les résultats mettent en évidence une atteinte de ces compétences dès les stades précoces, en termes de précision mais plus encore en ce qui concerne les temps de réalisation. Ce mémoire participe également à la validation de l'outil auprès de la population Alzheimer.
Fichier principal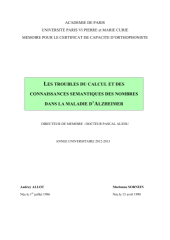 34_MEM_ORTHO_2013_ ALLOT_Audrey-SORNEIN_Marianne.pdf (3.6 Mo)
Télécharger le fichier