Les rôles des différents acteurs sur la pérennité d'un projet urbain, lors de sa mise en forme. Étude de cas du projet du Jardin Public de la ville de Saintes
The main goals of this report are to bring out the role of the different actors who influence the sustainability of the urban project, from the beginning to the realization. The study is based on the concepts of "project's actors", "project approach" and "risks." The project environment and its actors are constantly evolving, varying between the need to change and the fear of it. It is with this contradiction that this study is necessary. And there the question of "why and how" appear: What do we mean by sustainability? What is an urban project? What means actors, processes and project risks? This is exactly what the study is seeking to. It also explores the links between the different phases of the project process and the roles and constraints of the different actors: residents, elected officials, private and institutional partners. This also allows identifying the risks that may be involved in the project. These risks can have different natures: human, financial, technical... However, these risks can be limited by tools which are being highlighted throughout the study: communication, management teams, technical and organizational. The project of the Jardin public of Saintes represents the landscape symbol of the "right bank" urban project to revitalize the bank serves as an example. It serves as a primer to a green metamorphosis on shore. The study has to show, according to the project process' progress, the operation and effectiveness of some tools that have been tested. While others are offered in order to ensure an end of the project.
Ce mémoire a pour objectif de mettre en lumière le rôle des différents acteurs sur la pérennité d'un projet urbain depuis son apparition, jusqu'à sa réalisation. L'étude est basée sur les notions d'"acteurs du projet", de "démarche projet" et de "risques". L'environnement du projet et de ses acteurs évolue en permanence, oscillant entre besoin de changement et peur de ce dernier. C'est dans cette contradiction que cette étude s'impose. Elle amène à se questionner sur le pourquoi et le comment d'un projet urbain : qu'entendons-nous par pérennité ? Qu'est-ce qu'un projet urbain ? Que signifie acteurs, démarches projet et risques ? Elle cherche alors à y répondre. Elle explore aussi les liens qui existent entre les différentes phases de la démarche projet et les rôles et contraintes des différents acteurs : habitants, élus, partenaires privés et institutionnels. Cela permet d'identifier les risques qui peuvent s'imposer au projet. De différentes natures : humains, financiers, techniques ces risques se trouvent cependant limités par des outils que l'étude met en lumière : de communication, de managements, techniques et organisationnels. Le projet du Jardin Public de la ville de Saintes, qui représente le volet paysager du projet urbain "rive droite" visant à redynamiser cette rive, sert d'exemple. Il sert d'amorce à une coulée verte sur la rive. L'étude doit montrer, en fonction du niveau d'avancement dans la démarche projet, le fonctionnement et l'efficacité de certains des outils qui ont été testés, alors que d'autres sont proposés dans le but d'en assurer son terme.
Fichier principal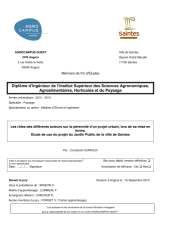 2013_Gorioux_Constantin_Roles_acteurs_perennite_projet_urbain.pdf (8.31 Mo)
Télécharger le fichier