Étude du risque climatique en riz pluvial et de ses interactions avec les systèmes de culture dans la région du Lac Alaotra
In the area of Alaotra Lake in Madagascar the rising demographic pressure leads to an overexploitation, causing an important erosion of slope plots and an loss of soil fertility. Other problems like access to phytosanitary substances andinstability of yields due to climatic variability pose a threat to rice productivity, main culture of this country. Directseeding mulch-based cropping (DMC) systems have solutions to those problems. There are based on three fundamental pillars: no-till of soils, appropriated rotation of cultures and presence of permanent mulch on the ground. Their effectiveness has already been proved in different parts of the world but few studies have been made in the area of Alaotra Lake, where there is a specific climate. The aim of this study is to model rice culture in this area thanks to PYE model. Trial plots cultivated in this region will be used to calibrate the model. In this context Rice crops will be simulated over 18 years from a climatic series taken in the Lake region. It will permit to compare the sensibility of different crop systems to hydric stress observed in the region. Results show that conservation agriculture doesn't lead to better yields, except on plots where runoff levels are very high.
À Madagascar, dans la région du lac Alaotra, la forte pression démographique entraîne une surexploitation des terres arables. Il en résulte une érosion importante des terrains en pente ainsi que des pertes conséquentes en fertilité des sols. D'autres problèmes tels que l'accès aux produits phytosanitaires et l'instabilité des rendements due à une forte variabilité climatique menacent également la productivité de la riziculture pluviale, principale culture du pays. Le semis direct sous couverture végétale apporte des solutions à ces problématiques. Il repose sur trois piliers fondamentaux : le non labour des parcelles, la rotation appropriée des cultures et la présence permanente d'une couverture végétale sur le sol. Son efficacité a déjà été démontrée dans les Hautes-Terres de Madagascar mais peu d'études ont été réalisées dans la région du Lac Alaotra qui a un climat particulier. L'objectif de cette étude est de modéliser la riziculture pluviale dans cette région grâce au modèle PYE. Le modèle sera paramétré à partir des essais effectués dans la région et de la variété de riz utilisée. On pourra ainsi simuler la riziculture pluviale sur la base d'une série climatique de 18 années relevée au même endroit afin de comparer la sensibilité des différents systèmes de culture au stress hydrique. Les résultats montrent que l'agriculture de conservation ne permet pas une amélioration significative des niveaux de rendements, sauf sur les parcelles soumises à des forts taux de ruissellement.
Fichier principal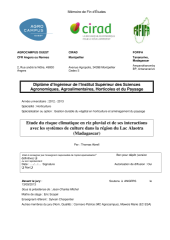 2013_Abrell_Thomas_Risque_climatique_riz_pluvial.pdf (775.06 Ko)
Télécharger le fichier