La personne âgée dysphagique en maison de retraite : orthophonie et information du personnel soignant
The aim of this study was to investigate about the intervention of the speech therapist in the management of dysphagia in nursing homes, especially the role he can play in the formation and the accompaniment of caregivers. We questioned 108 professionals: medical coordinators, speech therapists, and caregivers. The answers to the questionnaires show that speech therapist's intervention seems to be useful in this kind of situation, even if caregivers don't seem to know well his role in the management of dysphagia.
Dans la présente étude, nous nous sommes interrogée sur le rôle que l'orthophoniste peut jouer dans la formation et l'accompagnement du personnel soignant des maisons de retraite, dans le cadre de la prise en charge des résidents dysphagiques. Nous avons interrogé 108 professionnels : médecins coordonnateurs, orthophonistes, soignants. Les réponses aux questionnaires montrent que l'intervention de l'orthophoniste dans un tel contexte semble utile et bénéfique, même si son rôle dans ce domaine est encore méconnu des soignants.
Fichier principal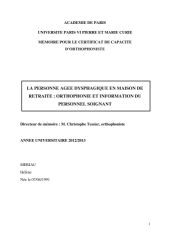 37_MEM_ORTHO_2013_MERIAU_Helene.pdf (3.13 Mo)
Télécharger le fichier
37_Annexe_no9_MERIAU Helene.pdf (1.6 Mo)
Télécharger le fichier