Sélection d'habitats par le Murin de Bechstein (Myotis bechsteinii) en forêt domaniale de la Grésigne et gestion conservatoire
Since the establishment of a new Natura 2000 contract on the setting of the national forest of La Gresigne (n° FR7300951) administrators have to make sure that the management measures put in place are efficiently meeting the requirement of forest chiropters, by taking as a reference the Bechstein's bats, due to their exclusive forest character. That's why, within the scope of the contract and the forest section of the PNA on chiropters, we led a study based on the telemetry method, the only one allowing to find precise informations about the ecology of the aforesaid species, to understand how the habitat selection is operated by the animal for shelters and hunting grounds. The collected data permited the formulation of recommendations for protective management, which can be integrated in the project of forest laying out and standard management.
Un contrat Natura 2000 nouvellement établi sur le site de la forêt domaniale de la Grésigne (n° FR7300951) impose au gestionnaire de s'assurer que les mesures de gestion mises en place répondent bien aux exigences des chiroptères en forêt, en prenant le Murin de Bechstein comme porte-drapeau, étant donné son caractère forestier exclusif. C'est pourquoi, dans le cadre de contrat et du volet forestier du PNA sur les chiroptères, nous avons mené un étude basée sur la méthode de la télémétrie, seule méthode permettant d'obtenir des informations précises sur l'écologie de cette espèce, dans le but de comprendre comment s'opère la sélection d'habitats pour les gîtes et les terrains de chasse par l'animal. Les données ainsi récoltées ont permis de formuler des préconisations de gestion conservatoire, pouvant être intégrées lors de la planification des aménagements forestiers et de la gestion courante.
Fichier principal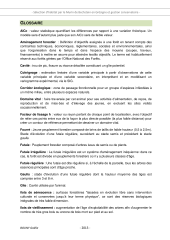 2013_Bouny_Gaelle_Selection_habitats_murin_bechstein.pdf (4.89 Mo)
Télécharger le fichier