Médecine générale en milieu rural : freins à l'installation : étude qualitative nationale auprès d'internes et de médecins installés
Introduction: Health care access is unequal on the French territory. Rural areas are particularly affected as they accumulate both high level of aging doctor population leaving for retirement and reluctances to settle there from new graduates. The objective of this study is to identify the obstacles to settlement in rural areas for future physicians. Materials and Methods: This qualitative study was conducted by telephone among general practitioners and residents working in France. Data collection was conducted between April 27 and August 15, 2013 by semi-structured interviews. Results: Eighteen interviews were conducted and three types of settlement brakes in rural areas emerged. The first was related to rurality itself: the problem of rurality definition, overall isolation and employment difficulties for the spouses. The second obstacle was related to medical practice in rural areas: professional isolation, heavy workload and proximity with the population. The last brake was related to student's training: initial selection of doctors-to-be and ambulatory care internship in rural areas. Conclusion: Obstacles to settlement in rural areas are numerous and not resolved by the current incentive measures. However residents seem to be interested in the practice of medicine in rural areas. The challenge is therefore to take young doctors' expectations into consideration to hope to see them settling in rural areas. Further studies may clarify motivations for settlement in rural area and assess the real impact of incentives.
Introduction : L'accès aux soins est inégal en France. Les zones rurales sont particulièrement touchées car elles cumulent les départs en retraite massifs des médecins et les réticences d'installation des nouveaux diplômés. L'objectif de cette étude est de définir les freins à l'installation en milieu rural chez les futurs médecins. Matériel et méthodes : Cette étude qualitative a été menée par voie téléphonique auprès de médecins généralistes et d'internes travaillant en France métropolitaine. Le recueil des données a été réalisé entre le 27 avril et le 15 août 2013 par entretiens semi-dirigés. Résultats : Dix-huit entretiens ont permis de dégager trois types de freins à l'installation en milieu rural. Les premiers étaient liés à la ruralité : problème de la définition de la ruralité, isolement global et difficultés d'emploi pour le conjoint. Venaient ensuite les freins liés à la pratique de la médecine en milieu rural : isolement professionnel, surcharge de travail et proximité de la population. Les derniers freins étaient liés à la formation : sélection initiale des étudiants et stage ambulatoire en milieu rural. Conclusion : Les freins à l'installation en milieu rural sont nombreux et non résolus par les mesures incitatives actuelles. Cependant, les internes semblent porter un intérêt certain à l'exercice de la médecine en zone rurale. L'enjeu est donc de considérer les attentes des jeunes médecins pour espérer les voir s'installer en zone rurale. D'autres études pourraient préciser les motivations à l'installation en milieu rural et évaluer l'impact réel des mesures incitatives.
Fichier principal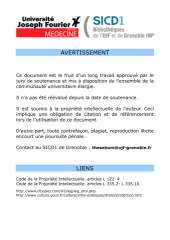 2013GRE15099_arnaud_clemence_et_thiron_pierre_1_D_.pdf (2.1 Mo)
Télécharger le fichier