Expérimentation et évaluation de systèmes de culture économes en intrants en production porcine en Bretagne
Since 2009, three cropping systems have been tested at the experimental agricultural station of Crécom. The difference between these three systems is the kind of effluent used : liquid manure, fertilizer or mixed. The aim of this project is environmental protection : 50% reduction of the use of pesticides, reduction in nitrogen and phosphorus transfer risks, without deteriorating the profitability and the working conditions. The durability assessment covers the first three years of the crop rotation (corn/wheat/rapeseed/triticale). Moreover, an agronomic diagnostic of rapeseed is made in order to improve this crop which did not reach the goals during the previous years. The aims, regarding the 50% reduction of the use of pesticides and the limitation of nitrogen and phosphorus transfer risks, are reached. However, the use of herbicides is high and the phosphorus results are not balanced for all campaigns. Working conditions and economical profitability are partially preserved. Two solutions could be tested for rapeseed : the hoeing or the use of legumes with rapeseed. In order to reduce the working time, the no-till farming and a decrease in the number of mechanical interventions could be applied. As for the rapeseed agronomic diagnostic, the campaign yields were higher than expected. The decision rules for this crop have thus been entirely validated. However, yield variations were noted because of pest attacks. The effects of advancement of sowing dates and would be tested to limit these attacks.
Depuis 2009, trois systèmes de culture sont testés à la station expérimentale de Crécom. Ils se différencient par le type d'effluents apportés : lisier, fumier ou mixte. L'objectif est la préservation de l'environnement : réduction de l'IFT de 50%, diminution des risques de transferts de l'azote et du phosphore, sans dégradation de la rentabilité et des conditions de travail. L'évaluation de la durabilité porte sur les 3 premières campagnes de la rotation (maïs/blé/colza/triticale). Un diagnostic agronomique est effectué sur la culture du colza afin d'optimiser cette culture qui ne répondait pas aux objectifs les années précédentes. Les objectifs de réduction de 50% de l'IFT et de limitation du risque de lessivage des nitrates sont atteints mais l'IFT Herbicides est fort et le bilan phosphore n'est pas équilibré. Les conditions de travail et la rentabilité économique sont en partie préservées. Deux solutions pourraient s'appliquer à la culture du colza afin diminuer l'IFT Herbicides : le binage ou l'utilisation de couverts végétaux. Afin de diminuer les temps de travaux, des TCSL et une limitation du nombre d'interventions de désherbage mécanique pourraient être mises en place. Concernant le diagnostic agronomique du colza, les rendements ont été supérieurs aux objectifs. Les règles de décision concernant cette culture ont donc été globalement validées. Cependant, des variations de rendements ont été observées suite à des attaques de ravageurs. Les effets de l'avancement des dates de semis et des couverts associés pourraient être testés afin de limiter ces attaques.
Fichier principal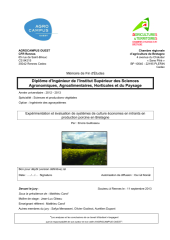 2013_Guillossou_Enora_SciencesetProductionsVA_gA_tales.pdf (22.34 Mo)
Télécharger le fichier