Le traitement des espaces urbains dans les villes au climat chaud et sec pour diminuer leurs problèmes climatiques. Étude de cas : la ville du Caire
The rapid urbanization in big cities, such as Cairo, often has negative impacts on the environment, including changes in the urban microclimate. However, there is a lack of integration of climate knowledge in planning strategies, as well as there is no link between the microclimate, thermal comfort, design and planning regulations. Most urban models and theories in Egypt are imported from abroad. We face therefore a big challenge to manage the existing urban spaces to adapt to the hot climate. This study analyzes the effects of urban design and landscape elements on the thermal environment of urban spaces in the hot and dry city of Cairo. The thermal sensation of the users of two public squares in Cairo, and how they perceive the thermal environment in different places are studied by structured interviews. Non-participant observation of the behavior of the users, and a qualitative analysis of the thermal performance of the squares, were applied. The results affirm the importance of shade in the summer climate of hot and dry regions, as well as the important role of vegetation.
L'urbanisation rapide dans les grandes villes, comme Le Caire, entraîne souvent des impacts négatifs sur l'environnement, y compris les modifications sur le microclimat urbain. Cependant, il y a un manque d'intégration des connaissances climatiques dans les stratégies de planification, et il n'y a pas de liens entre le microclimat, le confort thermique, la conception et les règlements d'urbanisme. La plupart des modèles et théories urbains en Égypte sont importés de l'étranger. Un énorme défi existe donc sur la façon de gérer les espaces urbains existants pour s'adapter au climat chaud. Cette étude analyse les effets du design urbain et des éléments du paysage sur l'environnement thermique des espaces urbains dans la ville chaude et sèche du Caire. La sensation thermique réelle des usagers des deux places publics au Caire, et comment ils perçoivent l'environnement thermique dans des lieux différents, sont étudiés par des entretiens directifs. Des observations non participantes des comportements des usagers, et une analyse qualitative de la performance thermique des places étudiées, ont été appliqués. Les résultats affirment l'importance de l'ombrage dans le climat estival des régions chaudes et sèches, ainsi que le rôle important de la végétation.
Fichier principal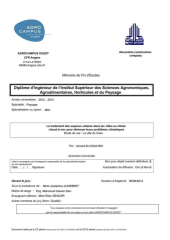 ELHOZAYEN_Ahmed_Traitement_espaces_urbains_problemes_climatiques_Caire.pdf (3.57 Mo)
Télécharger le fichier