Étude de l'impact des engrais verts sur les qualités physiques et biologiques des sols sableux en cultures maraîchères nantaises
Highly specialized vegetable growing in the Pays de la Loire has constantly intensified during the last years. Consequently the sandy soil has started losing its fertility. This is evident in an increasing phytosanitary pressure and a leak in organic matter. Searching for a method to enhance soil quality through improving soil structure and soil life, the project Pathosol was created. Green manuring was chosen as an alternative to conventional chemical soil treatments. Thirteen green manuring assortments were tested. Their capacity of improving soil structure was analyzed on the basis of hydraulic conductivity and soil porosity measurements as well as through distinguishing macropores in size and shape. Effect of green manure on soil life was measured by scanning population densities of springtails, mites and nematodes. Soil sickness was estimated by analyzing the amount of fusarium attack on radish. Green manure improves soil structure via diminution of the hydraulic soil conductivity. The influence of green manure on soil life population is partly positive. Mite population is increasing. Springtail population is decreasing. The phytosanitary pressure of fusarium is low. In the continuation of the project, the effect of the ploughed fresh matter on soil structure, soil life and on soil health will be studied.
Les dernières années, l'intensification et la spécialisation des cultures maraîchères dans la région Pays de la Loire a continuellement augmenté. Les sols sableux connaissent une perte de fertilité causée par une pression phytosanitaire croissante et un manque de matière organique. Le projet Pathosol est créé pour trouver une méthode alternative aux traitements chimiques conventionnels utilisés contre les pathogènes telluriques en améliorant sa structure et sa vie. L'installation des engrais verts a été choisie. Ainsi, treize mélanges d'engrais verts sont testés. Leur influence sur la structure du sol est analysée en mesurant la conductivité hydraulique, la porosité totale et en caractérisant les formes et tailles des macropores. L'effet des engrais verts sur la vie du sol est analysé en déterminant les populations de collemboles, d'acariens et de nématodes. L'état sanitaire est analysé via le taux d'impact de la fusariose sur des radis. Les résultats montrent que les engrais verts présentent un effet positif sur la structure du sol. La conductivité hydraulique diminue. Ils ont un effet positif sur les acariens. Leur population augmente. En revanche, la population de collemboles diminue. L'impact de la fusariose reste faible. Durant la suite du projet, l'effet de la matière verte enfouie sur la structure, la vie et l'état sanitaire du sol sera analysé.
Fichier principal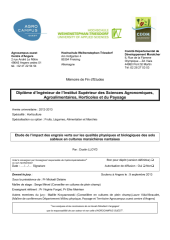 Lloyd_Dustin_Engrais_verts_cultures_maraicheres_nantaises.pdf (1.78 Mo)
Télécharger le fichier