Vers la sélection de plantes de service pour une gestion agroécologique des pucerons en culture de melon
Aphids are serious pests in melon crops inducing important direct damages. Besides, it is the main vector of melon viruses and can indirectly induce massive epidemics. Chemical management shows its limits and current alternative methods are not efficient enough yet, especially in field. To control aphid populations and reduce the use of chemicals at the same time, diversification of agroecosystems is a main work axis. It aims to favour natural crop-beneficial biotic interaction mechanisms, convertible in aphid management tools. In this context, this study takes particular interest in chemical ecology through repellent plants, and in biological conservation with the implementation of flower strips. It aims to characterise eleven plant species according to the behaviour of three aphid species and four main melon viruses. Thus this work focuses on the detection of potential repellent companion plants, and evaluates eventual side effects induced by each plant within melon crop. The results lead to preselect some plants to use in chemical ecology and/or within flower strips; some other plants appeared to be unsuitable.
Le puceron est particulièrement problématique en culture de melon puisqu'il induit des dégâts directs importants. Il est, par ailleurs, le vecteur privilégié des principaux virus de cette culture et peut donc indirectement engendrer des épidémies virales considérables. La lutte chimique montre ses limites et les actuelles méthodes alternatives sont encore trop peu efficaces, en particulier au champ. Pour réduire la pression en pucerons tout en diminuant l'utilisation de produits de synthèse, la diversification des agrosystèmes est un axe de travail majeur. Elle vise à favoriser des mécanismes naturels d'interactions biotiques bénéfiques à la culture, convertibles en outils de régulation des populations de pucerons. Dans ce contexte, cette étude s'intéresse en particulier à l'écologie chimique par le biais de plantes répulsives, et au principe de lutte biologique par conservation via l'aménagement de bandes enherbées et fleuries. Elle vise à caractériser onze espèces végétales vis-à-vis de trois espèces de pucerons et des quatre principaux virus du melon. Elle se concentre ainsi sur la détection de potentielles plantes de service aux propriétés répulsives, et évalue d'éventuels effets non-intentionnels qu'elles pourraient provoquer en culture de melon. La combinaison de ces résultats permet de présélectionner certaines plantes candidates pour une utilisation en lutte par les volatils, et/ou pour une implantation dans des bordures végétalisées, et d'en déconseiller certaines.
Fichier principal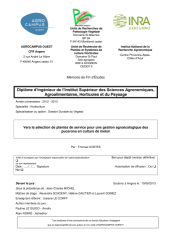 2013_Thomas_Costes_Selection_plantes_pucerons_culture_melon.pdf (2.81 Mo)
Télécharger le fichier