Du paysage culturel, patrimoine mondial de l'Unesco, au paysage-cadre de vie : quel dialogue possible par l'intermédiaire des démarches participatives ? L'exemple de Villandry, commune du Val de Loire, patrimoine mondial
The Loire Valley was added to the World Heritage List in 2000, as a "cultural landscape". The awarding of this label is one of the steps in a patrimonalisation process which is based on a set of different and evolutionary contexts. It also builds a peculiar representation due to the demonstration of its "outstanding universal value" and it requires commitment to preserve the landscape features that justify this value. How can this "official" and global value be articulated to the local values in use? The Val de Loire Mission is an organization working for the spread of the label and its consideration in planning policies. This organization is faced to a dual issue: on one hand the lack of "outstanding universal value" shared ownership because of the absence of local players mobilization upstream from the awarding, on the other hand different scales of action between the common management of the large listed site and specific managements of the different areas it runs through. The role of participatory approach in the dialogue between the World Heritage landscape and the daily lived landscape is studied from an experiment conducted in Villandry, a Loire Valley municipality. How could users participation to the definition and the construction of a territory project articulate outstanding value and value in use, toward a sustainable management, that is the raised question.
Le Val de Loire a été inscrit au patrimoine mondial de l'Unesco en 2000, au titre des « paysages culturels ». L'obtention du label est une des étapes d'un processus de patrimonialisation qui s'appuie sur un ensemble de contextes évolutifs. Elle est à l'origine de la construction d'une représentation singulière du Val de Loire, basée sur la démonstration de sa « valeur universelle exceptionnelle », et elle implique un engagement à la préservation des caractéristiques paysagères qui fondent cette valeur. Comment cette valeur « officielle » définie à une échelle globale peut-elle s'articuler aux valeurs d'usage locales ? La Mission Val de Loire est organisme qui œuvre à la diffusion de l'inscription et de sa prise en compte dans les politiques d'aménagement. Elle est alors confrontée à une double problématique : celle d'un manque d'appropriation de la « valeur universelle exceptionnelle » dû à l'absence de mobilisation des acteurs locaux du Val-de-Loire en amont de l'inscription, et celle d'une différence d'échelles d'actions entre la gestion commune du vaste site inscrit et les gestions propres aux différents territoires qu'il recoupe. À travers une expérimentation menée à Villandry, commune du Val-de-Loire, est étudié le rôle des démarches participatives dans la mise en dialogue du paysage inscrit au patrimoine mondial et du paysage vécu au quotidien. En quoi la participation des usagers à la définition et à la construction d'un projet de territoire permet-elle d'articuler valeur exceptionnelle et valeurs d'usage, en vue d'une gestion durable des paysages, telle est la question soulevée.
Fichier principal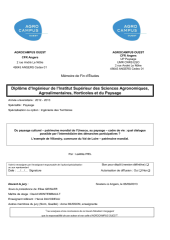 2013_PIEL_Laetitia_Paysage_culturel_paysage_cadre_vie.pdf (3.54 Mo)
Télécharger le fichier