Flaubert savait-il écrire en espagnol ? Madame Bovary et ses traductions
How to translate Faubert? This is the thematic of this MA thesis, which objective isn't to provide any answer to this question, but to take stock of the current situation, using the comparison of four Madame Bovary's translations in Spanish. The first objective is to pick out the differences most commonly performed, in order to understand the mechanisms of the translation. This work will be based on the translation's theories developed by Marie-France Delport and Jean-Claude Chevalier.
Comment traduire Flaubert ? C'est là la thématique de ce mémoire, qui ne se propose pas d'y apporter une réponse, mais d'établir un état des lieux de la situation existante, au travers de la comparaison de quatre des traductions de Madame Bovary en espagnol. Il s'agit avant toute chose de relever les écarts les plus communément effectués - aussi appelés figures de traduction - afin de mieux comprendre les mécanismes de la traduction. Ce travail s'appuiera principalement sur les théories de la traduction développées par Marie-France Delport et Jean-Claude Chevalier.
Fichier principal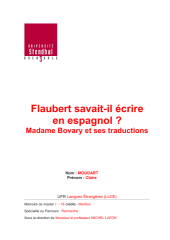 MOUDART_Claire_M1R_Etudes_iberiques_ibero_americaines_2013.pdf (866.64 Ko)
Télécharger le fichier