The Counterculture of the 1960s in the United States: An "Alternative Consciousness"?
This memoir analyzes the Counterculture's main theme: the "opening of consciousness". It states that historians miss the point when they analyze the counterculture as an "alternative consciousness". In three parts, the memoire analyzes post-war American politics and culture, the countercultural essence and previous traditions which influenced hippies, and concludes that the counterculture did not praised an "alternative consciousness" but consciousness itself, in opposition to the unconsciousness of the rest of the American society. This means that the counterculturists situated themselves in unity with the rest of humanity, as best expressed by Eastern philosophies which influenced them. Eventually, this memoir exposes the fact that historians who analyzed the countercultural inheritance missed the core countercultural message, which is spiritual enlightenment. This core message's lasting in the mainstream society is not even discussed, because it is not understood.
Ce mémoire analyse le theme principal de la contre culture : l'"ouverture de conscience". Il argumente que les historiens passent à côté du point essentiel de la contreculture lorsqu'ils l'envisagent en tant que "conscience alternative". En trois parties, ce mémoire analyse le climat politique et culturel de l'après-guerre, les revendications essentielles de la contreculture et les ouvertures philosophiques et intellectuelles qui l'ont précédée et influencée. Il conclut que la contreculture ne revendiquait pas une "conscience alternative", mais la conscience même, en opposition à l'inconscience de la société hégémonique Américaine. Cela signifie que les "hippies" se percevait en unité avec le reste de l'humanité, comme exprimé dans les philosophies hindous et bouddhiste dont le mouvement s'est fortement inspiré. Finalement, le message central de la contreculture - l'Éveil spirituel - est complètement ignoré par les historiens qui analysent les effets de la contreculture sur les générations suivantes, jusqu'à aujourd'hui. En fait, ce message n'est tout simplement pas compris car il ne correspond à aucune "case" de l'hégémonie actuelle.
Fichier principal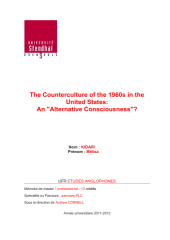 KIDARI_Melisa_M1PLC_Etudes_anglophones_2012.pdf (550.32 Ko)
Télécharger le fichier