La poétique des langues et le plurilinguisme dans Sea of Poppies d'Amitav Ghosh
This study deals with Amitav Ghosh's use of languages in Sea of Poppies. Several methods for introducing multilingualism are hence exposed. Borrowings, translations, and different comic devices emerge as ways of underlining the languages represented in the novel. The boat, which is central to the novel, also contributes in defining the Indian author's linguistic position. The notions of stratification, erosion, delta which come along with the Ibis yet also those of rhizome, map and journey together build an utopian example of linguistic and cultural mingling. Intertextuality reinforces the assumption of linguistic, cultural and religious compatibility. During this journey, societies whose origins are various, unit into a new, evolving entity legitimated in Sea of Poppies as an epic novel.
Cette étude traite de l'utilisation des langues d'Amitav Ghosh dans Sea of Poppies. Les modes d'introduction du plurilinguisme sont étudiés. Les emprunts, les traductions et les différents types de comique s'imposent comme des éléments de mise en valeur des langues du roman. Le bateau, thème central, aussi joue un rôle dans la définition du positionnement linguistique de l'auteur indien. Les notions de stratification, d'érosion, du delta qui accompagnent la figure de l'Ibis mais également celles du rhizome, de la carte et du voyage contribuent toutes à l'élaboration d'un exemple utopique de mélange linguistique et culturel. L'intertextualité renforce l'argument de compatibilité des langues, des cultures et des religions. Des sociétés aux origines différentes forment dans le voyage une nouvelle entité en évolution légitimée dans l'épopée de Sea of Poppies.
Fichier principal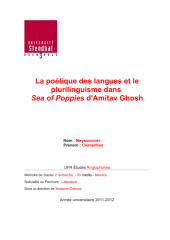 MEYSSONNIER_Clementine_M2R_Etudes_anglophones_2012.pdf (1.01 Mo)
Télécharger le fichier