Blindness in the novels of Kazuo Ishiguro: dignity or denial?
Kazuo Ishiguro's novels An Artist of the Floating World and The Remains of the Day feature narrators who are blind to the changing social values post-WWII and in denial about mistakes they made before the conflict. This study asks if the protagonists are victims of outmoded social mores or if they are active agents in their own delusion, complicit in the cultural problems that form the context for war itself. Despite Ishiguro borrowing heavily from Freudian psychoanalytic theory, the novels are less realist than many assume, exploring the ways in which individuals tell themselves stories about the past in a manner that foregrounds narrative technique. Drawing upon his hybrid cultural background, the novels comprise a postmodern questioning of the way we represent culture (British and Japanese), as well as a warning about the dangers of unquestioning loyalty to the nation. This study will show how Ishiguro's narrators are not the masters of their own destiny they believe themselves to be, but playing minor roles in a (hi)story they are powerless to control.
Les narrateurs des romans de Kazuo Ishiguro Un artiste du monde flottant et Les vestiges du jour sont aveugles aux valeurs sociales en mutation de l'après-guerre, et sont dans le déni par rapport à des erreurs qu'ils ont commises avant le conflit. Dans cette étude, la question est posée de savoir si les protagonistes sont des victimes de mœurs sociales passées de mode, ou s'ils sont moteurs de leurs propres illusions, complices dans les problèmes culturels qui forment le contexte de la guerre en elle même. Certes, Ishiguro emprunte à la théorie de la psychanalyse de Freud. Pourtant, les romans sont moins réalistes qu'il n'y paraissent, et explorent comment les individus s'inventent des histoires au sujet du passé, d'une façon qui vient au premier plan du procédé narratif. S'inspirant de ses origines culturelles hybrides, ses romans questionnent de façon postmoderne comment la culture (britannique et japonaise) est représentée, et donnent un avertissement sur les dangers de la loyauté inconditionnelle à la nation. Cette étude montre comment les narrateurs d'Ishirguro ne sont pas maîtres de leurs destin, tel qu'ils aimeraient le croire, mais sont simplement figurants dans une histoire qu'ils ne peuvent contrôler.
Fichier principal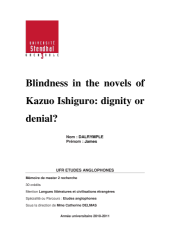 DALRYMPLE_James_M2R_Etudes_anglophones_2011.pdf (602.52 Ko)
Télécharger le fichier