Prise en compte et valorisation de la nature en ville dans les documents d'urbanisme
This work talks about nature's place within cities through different historical visions of urbanism. Nowadays, nature elements in town's multiple advantages are well known. Arguments for valuation are ecological, social, economic or even for landscape quality. To be valued, those elements need to be well defined according to site context and goal. Main elements mentioned for city nature are urban green spaces. They can also be defined according to several definitions (maintenance, landscape, ecology....). To be efficient, those spaces' valuation has to be anticipated during urban planning. This report is illustrated by concrete examples produced within a landscape and urbanism office. The question is to understand how efficient planning documents can be and which other tools can be used to value nature spaces within cities.
Ce mémoire retrace l'évolution de la place accordée à la nature dans les villes, évoquant les visions progressistes, culturalistes ou encore écologiques de l'urbanisme. Aujourd'hui, les nombreux avantages des espaces de nature en ville ne sont plus à prouver. Leur valorisation se fait pour des raisons écologiques, sociales, économiques, ou encore paysagères. Pour être valorisés, les éléments de nature en ville doivent être définis en accord avec le contexte et les objectifs visés. Les principaux éléments évoqués dans la définition des espaces de nature en ville sont les espaces verts urbains. Ceux-ci peuvent également être définis différemment selon l'angle d'approche (gestion, paysage, écologie...). Pour être cohérente, la valorisation de ces espaces doit se faire dès la planification des projets urbains. Ce travail s'appuie sur des exemples concrets pouvant être fournis par un bureau d'étude en environnement et notamment le cas d'un inventaire de la Nature en ville dans le cadre d'un SCoT. La question traitée repose sur le rôle et le pouvoir des documents d'urbanisme en faveur de la nature en ville et ouvre également des perspectives sur les outils complémentaires.
Fichier principal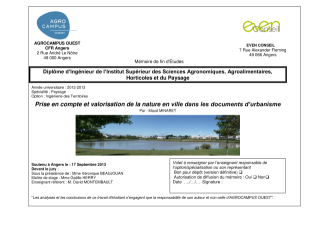 Minaret_Maud_Valorisation_nature_ville_documents_urbanisme.pdf (9.38 Mo)
Télécharger le fichier