Comment intégrer du végétal dans le tissu urbain dense existant ? À travers l'exemple de la ville de Lyon et du Nouveau Plan de Végétalisation
The city of Lyon is among the largest cities of France and one of the thickest. With the incoming mayor election and the review of the urbanism city plan for 2015, the city needs a planning tool for the next 15 years in order to introduce more green-covers in its urban milieu, get a higher percent of permeable ground and create connected green ways in all the city. How integrate green-covers in the thick existing urban areas ? What are the solutions given by this new planning tool ? What are the already existing ways in Lyon and in other countries ? Three questions converging to the recapture of the streets and to the unhabitants appropriation of the city.
La ville de Lyon est une des plus grandes villes de France et parmi les plus denses, à l'approche des élections municipales et de la révisions du PLU-H de 2015, la ville souhaite se doter d'un outil de planification pour les mandats à venir afin d'insérer plus de végétal dans son tissu urbain, d'avoir un plus grand couvert perméable, et de créer des liaisons vertes cohérentes dans toutes la ville, en relation avec son agglomération. Comment intégrer du végétal dans le tissu urbain existant ? Que propose le Nouveau Plan de Végétalisation à la ville ? Quels sont les moyens existants à Lyon et dans le monde ? Des questions qui convergent vers la reconquête des rues et l'appropriation de la ville par les habitants.
Fichier principal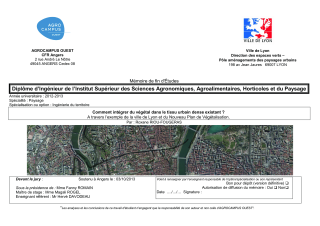 Riou-Fougeras_Roxane_Integrer_vegetal_tissu_urbain-1.pdf (31.57 Mo)
Télécharger le fichier