Vivre et incarner les idées du siècle des Lumières à travers la plume : étude des Miscellanea de l'avocat Letourneau (1713-1784)
At the 8 Main Street of Grenoble, was living during the Enlightenment period a jurist named Letourneau. This former Parisian came to settle in the capital city of Dauphiné in the middle of the 18th century. In turns, by turns he was secretary of the Intendance and secretary of the Parliament's chancellery of Dauphiné. At the same time, he was lawyer and manager of a tobacco's warehouse. Letourneau was accustomed to the gatherings' salons and he was used to rub shoulders with the elite of the province although he was only burgher. Meanwhile he was ennobled by his charge of secretary in the Parliament. This atypical man embodied the synthesis between the ideal of the Honest Man during the Great Century and the new ideas of the Enlightenments. His high faith realized through Christianity free from any "sect" or faction like the Sanctimonious' clan did not prevent him to be interested in sciences and knowledge, former as modern. When his death occurred in 1784, Letourneau left some curious manuscripts entitled Miscellanea, at the same time historical, cultural and religious chronicles. For a long time stayed in the oversight, these volumes are nevertheless interesting in the mass, certainly muddled but richer of information they bring us on the opinion of their author on his fellow countrymen, on the new ideas that he appropriates himself, refutes or enriches. These texts had probably a legacy value for their owner and it is what attempts to show this present study. As such, we shall try to understand what is meaning of this visible polymath mind within the Miscellanea. In which purposes simples privates handwritten were drafted with so much care? Which elements of knowledge could they bring to the cultural and urban history of the 18th century as well as that of sciences?
Au 8 Grande rue de Grenoble, vivait au temps des Lumières un juriste nommé Letourneau. Ce parisien d'origine vint s'installer dans la capitale du Dauphiné au milieu du XVIIIe siècle. Tour à tour, il exerça les fonctions de secrétaire de l'Intendance puis celle de secrétaire de la chancellerie du Parlement de Dauphiné tout en étant avocat et entreposeur de tabac. Letourneau était un habitué des salons mondains de son temps et fréquentait différents membres de l'élite dauphinoise bien que lui-même ne fut que simple bourgeois anobli par la suite à travers son office. Cet individu atypique incarnait la synthèse entre de l'idéal d'honnête homme du Grand siècle et les idées nouvelles des Lumières. Sa foi profonde, concrétisée à travers un christianisme détaché des « sectes » et « faux dévots », ne l'empêcha pas de consacrer une grande partie de son temps aux sciences et aux savoirs tant anciens que nouveaux. À sa mort survenue en 1784, Letourneau laissa de curieux manuscrits intitulés Miscellanea, à la fois chroniques grenobloises, religieuses et culturelles. Longtemps restés dans l'oubli, ces volumes sont pourtant intéressants dans la masse, certes désordonnée mais non moins riche d'informations qu'ils nous apportent sur l'opinion de leur auteur sur ses compatriotes, sur les idées nouvelles qu'il s'approprie, réfute ou enrichit. Ses textes avaient probablement une valeur de Testament philosophique pour leur propriétaire et c'est ce à quoi s'attache à montrer la présente étude. À ce titre, nous tenterons de comprendre quelle est la signification de cette apparente polymathie au sein des Miscellanea. Dans quels buts de simples écrits privés furent-ils rédigés avec autant de soin ? Quels éléments de connaissance apportent-ils à l'histoire culturelle et urbaine du XVIIIe siècle de même que celle des sciences et des savoirs ?
Fichier principal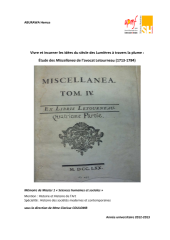 Aburawa_Hemza_-_Vivre_et_incarner_les_idees_du_siecle_des_Lumieres.pdf (2.56 Mo)
Télécharger le fichier