Stratégies de planification locale et évolutions des zonages dans les documents d'urbanisme en Île-de-France
Within the framework of the elaboration of town planning documents, zoning is a major tool for town councils in order to set up their urban development strategy. But the trajectories followed by municipalities regarding zoning are still not well understood. There are several possibilities for decision makers to increase the accommodation facilities of a municipality: creation of zones opened to the urbanization, annexation of zones of diffuse urbanization, redefinition of natural and agricultural zones in order to respond to the need of farmers and other people who live there, or even densification of the built existing by the exploitation of land opportunities still available in urban zones. To adopt a dynamic approach on these evolutions, the research achieved consist of the analysis of town planning documents, and specifically on the supporting chapter of presentation reports, redacted at the moment of elaboration or revision of POS/PLU. A sample was selected in order to study a recent period, between 2007 and 2012, in two departments of Ile-de-France (Yvelines and Seine-et-Marne).
Dans le cadre de l'élaboration des documents d'urbanisme, la définition de zonages est un instrument clé par lequel les conseils municipaux appliquent leur stratégie d'aménagement. Les trajectoires suivies par les communes en matière de zonages sont cependant mal connues. Diverses possibilités s'offrent aux décideurs pour augmenter les capacités d'accueil au sein de leur commune : création de zones ouvertes à l'urbanisation, annexion de zones d'urbanisation diffuses, redéfinition des zones naturelles ou agricoles dans le but d'aménager ponctuellement des marges de manœuvre afin de répondre aux besoins des exploitants ou personnes résidant dans ces zones, ou encore densification de l'existant par l'exploitation des opportunités foncières encore présentes en zones urbaines. Afin de mettre l'accent sur une approche dynamique de ces évolutions, l'étude réalisée porte sur l'analyse des documents d'urbanisme, et en particulier sur le volet justificatif des rapports de présentation, rédigé au moment de l'élaboration ou de la révision des POS/PLU. Un échantillon a été sélectionné de manière à couvrir une période récente, comprise entre 2007 et 2012, le tout dans deux départements franciliens (Yvelines et Seine-et-Marne).
Fichier principal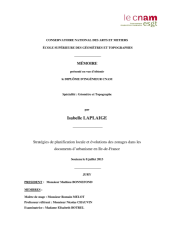 LAPLAIGE_Isabelle.pdf (843.72 Ko)
Télécharger le fichier
ANNEXES_LAPLAIGE_Isabelle.pdf (360.66 Ko)
Télécharger le fichier