Évaluation immobilière d'un bien : le rôle essentiel des surfaces
Property valuation: the key role of the surfaces. This thesis analyzes the complex sector of real estate assessment through the numerous surfaces and their respective methods of estimation. The purpose is to determine the impact of the surfaces on the valuation of a property. The theoretical analysis of the surfaces leads to making some recommendations for the next edition of the property valuation expertise charter (Charte de l'expertise en évaluation immobilière), including the recently proposed surfaces mentioned in the surface measurement code (code de mesurage des surfaces). This theoretical analysis questions also the application of the measuring code especially for the standardization of the surfaces at the European level. The practical analysis points out the proportional influence of the area on the value as well as the combination of the surfaces either with the comparison or the countdown method. Knowing the exact type of surface is very important to estimate a property, which is not always the case...
Le domaine complexe de l'expertise immobilière est analysé dans ce mémoire à travers les nombreuses surfaces et les méthodes d'estimation qui les mettent en scène. Le but est de déterminer l'impact que peuvent avoir les surfaces sur la valeur vénale d'un bien. L'analyse théorique des surfaces conduit à faire des recommandations pour une prochaine édition de la Charte de l'expertise en évaluation immobilière, sans oublier les récentes surfaces proposées par le code de mesurage des surfaces. Cette analyse théorique s'interroge également sur l'application du code de mesurage qui souhaite notamment une harmonisation des surfaces au niveau européen. L'analyse pratique fait remarquer l'influence proportionnelle de la superficie sur la valeur mais aussi la combinaison des surfaces tant par la méthode par comparaison que dans un bilan compte à rebours. D'où l'importance de savoir de quelle surface il est question, ce qui n'est pas toujours le cas...
Fichier principal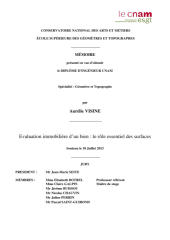 VISINE_AurA_lie.pdf (819.98 Ko)
Télécharger le fichier
Annexes.pdf (811.53 Ko)
Télécharger le fichier